Nonnewaug Mock Election Project Grows to Social Media
Zoie Cole, Assistant Features Editor
May 1, 2023
WOODBURY — It was around noon April 17 when the first of three mysterious teacher-president campaigns made its public debut, highlighting three Nonnewaug staff members in a fictional race for the position of United States President.
On Instagram, @geregforgovernment introduced candidate Conor Gereg, an English teacher at Nonnewaug High School, with the slogans "Gereg for the Greater Good," and "Vote Gereg, The Lit Choice."
"Mr. Gereg is a good adversary to go up against the other candidates," said Rebecca Varnum, a Nonnewaug senior and one of four managers behind Gereg's campaign. "We needed to pick someone who was well-liked, kind, and has made an impact on the younger generation." 
The following day, the Gereg for the Greater Good campaign was joined on Instagram by @goguerette4pres, a similar account featuring "Don't regret, vote Guerette" as the main slogan.
As quickly as it began, the flames of the impromptu election grew in size. Currently, Nonnewaug's own "Kitten King" is leading the pack with a total of 170 followers across two Don't Regret, Vote Guerette Instagram accounts. Second is the Go Green for President campaign, followed by Gereg for the Greater Good.
"I've had other people come up to me and say, 'Oh, this is so funny,'" said Nonnewaug senior Megi Gorka, another manager behind Gereg for the Greater Good. "It's nice to see that everyone is having fun with it."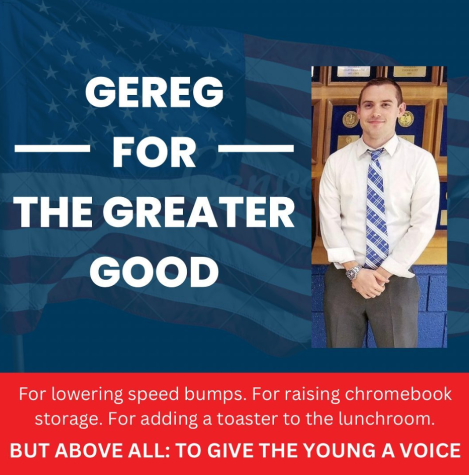 Behind the scenes, and the characters put on by both candidates and campaign managers, the election began as an assignment for students in Nonnewaug's AP Government and Politics class, taught by Nonnewaug staff member Rebecca Trzaski.
Ben Guerette, another English educator at Nonnewaug, and a candidate in the mock election, was almost as surprised as the rest of the community to learn he was running for president.
"Mrs. Trzaski emailed me about the 'election' beforehand," he said. "Then, I started getting emails from the students asking for interviews and videos. I didn't realize it would turn into all of this."
"Making the accounts wasn't part of the task," Varnum said. "But we wanted to add a little bit of creativity into it."
"In order to understand how a campaign works in real life, we had to pick someone we think would be a good candidate," said Gorka. "We had to make video ads, advertisement images, and do a lot of behind-the-scenes work."
Although much of the campaign is available to the public online, the end result boils down to a single vote.
"The overall goal is to convince Mrs. Trzaski that our candidate would be the best president," explained Gorka. "I think we're definitely going to win."