Nonnewaug Tennis Teams Claim BL Titles
WOODBURY — The annual Berkshire League tennis tournaments last week capped another successful spring season for the Chiefs, one that saw both the boys and girls teams win league championships.
The league championships came down to two late-season matches. The Nonnewaug girls came back to defeat Litchfield, 4-3, on May 11. When it came down to the No. 3 doubles match, Nonnewaug's Lux Calo and Sam Duncan recovered to defeat Jillian Saunders and Hope Melk, 3-6, 7-6 (7-4), 10-4.
On the same day, Jackson Brent's 7-5, 6-0 victory over Jack Honigmann at No. 2 singles gave the Nonnewaug boys a 3-2 win against the Cowboys. The Chiefs followed up with wins over Shepaug in boys and girls action the following day to wrap up championships.
"My goals for the season were to win the BL title outright," said senior Emma Primini, "[and] also helping our team do well in states, both of which we had achieved."
The girls have now won three straight BL championships after sharing the title with Litchfield the two years prior.
"My favorite part of the season was celebrating the BL championship with my team," said Primini. "It's a really great group of girls, so celebrating made the title feel extra special. Winning the BL title means that the team gets to showcase all of the hard work and dedication that we have put in over the past few months. After becoming three-peat champs, it feels good to be able to represent the school in a very high manner."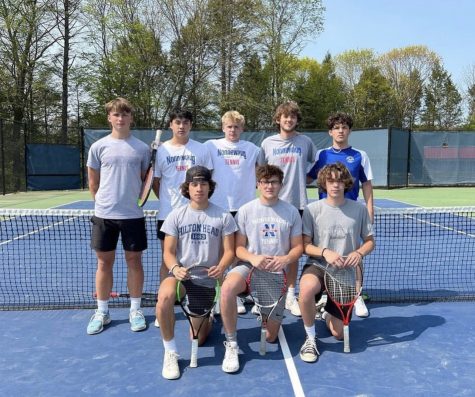 The boys enjoyed a strong season last year as well, finishing with a 9-3 record and second place in the league. This team's potential was greatly aided by the strength that returning players provided.
"Our goal from the start of this season was to not only win the BL title but also make a run for states," said senior Ben Shea. "We have a strong roster this year and are looking forward to our second state match this Tuesday. Winning the BL title meant that our hard work throughout the season and the preseason had paid off."
At the league tournament, Ben Mwanza, a senior at Litchfield, defeated John Wild of Shepaug in the boys singles championship match, 7-5, 6-2, on May 22 at Nystrom Park in Thomaston. Brent was upended by Wild, 6-2, 6-1, in the other semifinal.
No. 2 seeds Charles VandenBosch and Kip Faison of Shepaug defeated No. 1 seeds Andrew Greene and Kyle Vivieros of Nonnewaug in the boys doubles final, 6-2, 6-3.
Top-seeded Mary Katherine Eddy of Shepaug defeated No. 3 Leah Sepples of Litchfield in the girls singles final, 6-3, 6-3. Eddy beat Primini in the semifinals, 6-1, 6-3, while Mallory Tomkalski of Nonnewaug was defeated by Sepples in the other semifinal, 6-2, 6-3.
The top-seeded Litchfield team of Claire Olmstead and Emily Migliorisi won the doubles final against the No. 3-seeded Nonnewaug team of Maggie Keane and Duncan, 6-4, 2-6, 10-4.
In the semifinals, Keane and Duncan defeated Charlotte D'Alexander and McKenna Hardisty, also of Nonnewaug, 6-3, 4-6, 10-6.
"It was a great season overall," said Shea. "I'm glad to have shared so many great memories with my friends and teammates this year. We bonded so well over these past couple of months, and going on special trips to Hilton Head made great memories that I will never forget."
The Chiefs were set for quarterfinal play in the state tournament May 30 after earning first-round victories May 27. The No. 5-seeded girls team will play at No. 4 Suffield in Class M, while the No. 4-seeded boys squad will host No. 5 Shepaug in Class S.