GradNite One Last Hoorah for Class of 2023
WOODBURY — Senior year can be one of the most fun — and stressful — years of high school. Nonnewaug hosts an annual GradNite, where seniors are invited to get together for a final night of music, games, crafts and entertainment. 
This is an independent program and does not accept money from the school budget. Rather, GradNite is made possible by the tireless labor of volunteers, generous contributions from parents, businesses, and the community, as well as year-round fundraising.
"I try to involve students as much as they are willing to be, from planning to earning tickets for their prizes by helping at fundraising events," says Christine Paige, the longtime organizer of the event. "Their help and involvement gets them more excited to attend and be successful." 
"Seniors should definitely attend GradNite," says Kamden Bushka, a 2022 graduate who attended GradNite last June. "It was so much fun and one of my favorite memories from high school."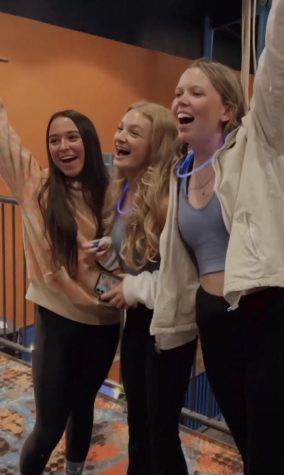 The point of having a GradNite is to limit the amount of reckless activities that could take place the night of graduation. Graduation night can be one of the most dangerous nights for high school students.
According to the Santa Ynez Valley News, "Graduation night has the highest death toll of the year for teen-agers, because alcohol-related traffic accidents remain the No. 1 killer of America's teenagers, and the evening of graduation is the party night of all party nights. The Surgeon General has reported that life expectancy has improved over the last 75 years for every age group — except the one that includes high school seniors. Their death rate is higher than it was 20 years ago, due to alcohol-induced crashes."
One requirement that's a prerequisite for the night is that students must be dropped off and picked up so to keep students off the road.
"It allowed everyone to go somewhere fun without worrying about how we were going to get there," says Bushka. 
The evolution of GradNite began right here on campus. Students would stay overnight and get picked up at sunrise. Over the years, it became easier to hold the celebration at an off-campus location.
"I'm excited," says Hannah Ely, a senior. "It's nice that the school can offer a safe place for that night." 
Students can earn raffle tickets on GradNite to win prizes by fundraising, as well as by volunteering at GradNite related events. 
It's a time where seniors have the ability to create one last memory for high school, as a class, before leaving each other.  
"My favorite thing about GradNite was being able to hang out with everyone in my grade," says Bushka. "It felt like we were little kids again."