The Class of 2023 Brought Together by … Watermelons
WOODBURY — As the days get warmer and seniors start thinking about graduation, the Class of 2023 has brought back the game they all have looked forward to throughout the year: Senior Assassin. 
This game is completely optional for the seniors, as it is not affiliated with or sanctioned by Nonnewaug, but a good portion of the class chooses to participate in this fun bonding game.
Orchestrated this year by juniors Maddie Willis and Claire Suttles, the duo set up an Instagram account with pictures and videos of "proof" of who got out. They set up the rules, which include two people per team, one water gun per person, an eight-pound watermelon that serves as a safety, and boundaries for the game. All parking lots are fair game, but many indoor facilities, including school during school hours, are off-limits. They also selected mystery targets for each team.
As part of their roles in organizing the event, the two juniors choose select days during the week, which are called "Purge Days," where the watermelon will not keep anyone safe from their assassins.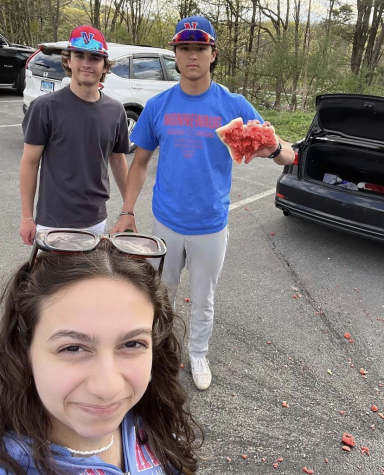 It is not just the seniors who are having fun, but teachers like Marisa Holtman enjoy hearing about the seniors savoring these last few months of high school.
"The students talk in whispers about the game, who got eliminated, and who's still in," said Holtman, an English teacher. "The students are still able to get work done and focus on school."
Madi Dannenhoffer, a senior player, recently made it past round one. She is yet to eliminate her next target, but so far, she is loving the game. 
"I bring my watermelon everywhere," said Dannenhoffer. "It was a little weird at the beginning to be carrying it around everywhere I go, but many other seniors are doing the same thing as well, so it's not that weird anymore."
April 28 marked the first Purge Day of the game. As of that Purge Day, 28 seniors of the original 70 have been eliminated. But with another Purge Day around the corner, seniors like Dannenhoffer have no protection from their assassins. The seniors anticipate the final round of the game culminating this summer.