Timber Team Cuts Through The Competition
WOODBURY — As the sawdust flies, the Woodbury FFA Timber Team strives to overcome their competition — regardless of season. With their spring season already underway, fans can be certain that Nonnewaug's timber sports team have been preparing to take on whatever comes its way.
"Spring and fall, we hold practices twice per week working on each of the different disciplines in timber sports," said Andrew Zielinski, the team's coach. "Over the summer, I have a few practices ready to prepare us for the fall competition season."
That being said, the timber team doesn't just meet during the spring and summer seasons; members can be found all year round preparing for these competitions. 
"Over the winter is when we work on making upgrades and repairs to the field, preparing the equipment, and fundraising to keep on making improvements," Zielinski said.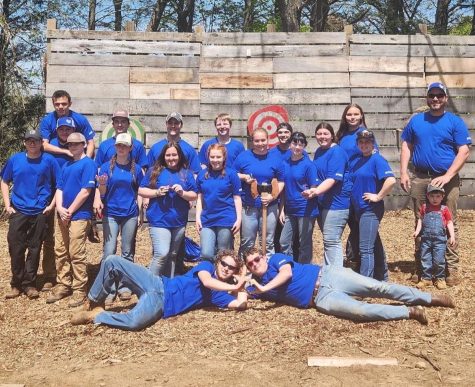 Within these preparations comes not only needed training but teamwork being developed between the members.
"In log roll, we roll a log down the rails and you need to communicate with your teammate to stay together," says Ryan Wicklund, a senior and team captain. "At first it was a struggle to keep the long on the rails. Now we have grown a bond to where we can successfully communicate with one another to keep the log on."
"In cross-cut, you also have to be in sync with your teammate [his being Ryan Wicklund] since it's a two-person event," says Joe Velky, a senior. "This helped me and Ryan become closer friends all together."
With the team's camaraderie also comes refining their skills during competitions. 
"The team has really grown a lot over the years," said Zielinski. "The team is mastering their technique and times are improving with each practice."
After all is said and done, all these skills come together to help the timber team reach a common goal: learn, grow, and better themselves for the next competition. 
"We got a lot of second places with maybe one or two third placements resulting in an overall second place in the competition on May 6, which I would say is really good for our first competition of the season," said Chloe Walsh, a sophomore.
With the next timber team competition being held May 27 at Wamogo High School, Zielinski and his team will be working harder than ever to try and take home their deserving, first place.
Regardless of the competition, one thing is clear: the Woodbury FFA Timber Team prepares to compete all year. 
"I believe we will continue to see improvement over the course of this season," Zielinski said. "We have a number of new members as well, so they will continue to learn the sport as the season progresses."