Unified's Momentum Continues into the Spring Season with Volleyball
WOODBURY — Unified basketball has always been a big part of our Nonnewaug community. This spring season, Nonnewaug's Unified Sports program carried over many athletes into its spring volleyball season. While NHS' varsity volleyball takes place during the fall season, the idea of a Unified version of volleyball was an idea that was spawned years ago. 
"Mr. [Conor] Gereg and I were at the annual conference for Unified Sports coaches," said Nonnewaug Unified co-coach John Dominello. "One of the other coaches was talking about how they do volleyball instead of track, so we thought we'd try it out."
With this newly presented idea to the Unified program, there was hope that there would be more participants.  
"We have more people with Unified volleyball than with Unified track, but we would still like to have a larger team," said Dominello. "It is difficult because a lot of our athletes who participated in Unified basketball are committed to their spring sport. We have a bigger draw in the winter."
Making the transition from basketball to volleyball was smooth and easy for the team. The same inclusive principles and goals were applied no matter what the sport.
Despite Unified volleyball's popularity, Unified basketball continues to be the team's biggest draw.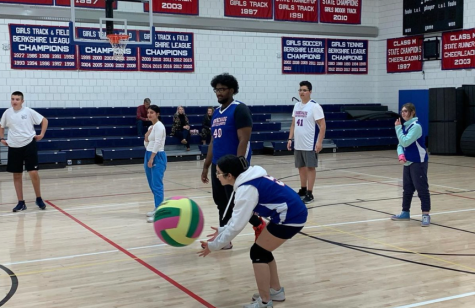 "I prefer Unified basketball over Unified volleyball," said Unified participant Michael Odumegu. "I feel like it gives everyone a better chance to get the ball compared to volleyball, where it only gets to one person at a time."
Even with a smaller roster in comparison to winter basketball, Unified volleyball has still been able to create an impact and memories for those who are involved.
"The most memorable moment for me was when we went to Watertown and we were a few students shy of a full team because there was a track meet and a tennis match," said Dominello. "We asked the Watertown coach if they would have a few of their athletes join in with ours. It was like it was routine, the students came over and had a lot of fun just participating on any end."
Not only has Unified volleyball created an impact for Nonnewaug, but it has also established itself in other schools as well. 
Many of the athletes involved with Unified also participate in spring sports, and they juggle both commitments as well as they can.
"They participate in Unified because they want to, they believe in it, they think it is a worthwhile sport to participate in," said Dominello. "We would much rather have a lower number when they are not around than not have them at all. We appreciate having students who are willing to participate in both sports."
Unified volleyball will only grow over the years, and is looking to be a promising addition to Nonnewaug Unified sports.