Woodbury FFA Builds Garden Beds for Woodbury Seniors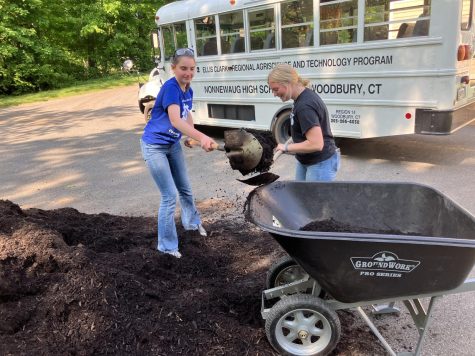 WOODBURY — The Woodbury FFA never strays far from helping anyone they can. This time they are helping the Woodbury Senior Center build raised garden beds. 
Sophomore block officers planned this event with help from advisor Jen Jedd. There are multiple reasons why they picked the Woodbury Senior Center.
"It is entirely student-led from the creation of the idea to the application for the grant to the implementation and review of the project," said Jedd, the sophomore block officer team advisor. "This year's team had a connection with the senior center and knew they wanted to begin gardening again after the pandemic, and they were in need of an area to do that."
This teaches the officers and students different skills like communication and how to properly build a garden bed. There are also other benefits, like getting community service hours and just being able to help the community. 
The seniors also benefit from this because it lets them be able to spend time outside planting and harvesting vegetables. They'll also have the ability to plant flowers.
"It also allows them to get fresh air and get their hands dirty," said Ashlynn Graziano, the sophomore block historian.
It is important to give back to the community that supports the Woodbury FFA and Nonnewaug. FFA also heavily supports community service, especially as part of its motto: "Learning to do, doing to learn, earning to live, living to serve."
"Students are also gaining skills in construction, planning, communication, and are learning to do," Jedd said. 
The Woodbury FFA did not just make the garden beds; they also cut down some of the overgrown weeds and cleared a spot where there was a lot of poison ivy for flowers.  
A lot of companies and people helped out during this project, including Chapman Lumber, Hosta Heaven, The Garden, and the Woodbury town garage. There were also a lot of volunteer students that came to help the sophomore block officers. Without this group of companies and kids, this would not have been possible.