Stewart: Chiefs' Run to Baseball Championship the Result of Years of Teamwork
WOODBURY — In a thrilling display of skill, determination, and sheer grit, the Nonnewaug Chiefs baseball team defied all expectations by clinching the Class M state championship. Against formidable opponents and amid intense competition, this tenacious group of young athletes has surpassed all odds, captivating their community and making history for themselves. 
The path to the state championship was not without its difficulties. Over the years, the squad encountered many challenges and disappointments, from nail-biting losses to injuries to coaching changes and even a lost season. Each setback, though, simply strengthened their resolve and encouraged them to work harder, train longer, and improve their abilities. 
"All of our hard work has paid off," said senior Dylan Chung. "We've worked so hard this year, and to make it all the way to the end [made] history for Nonnewaug." 
The Chiefs started their tournament run with a 17-4 victory over No. 30 Wolcott Tech. The Chiefs dominated this game in all aspects. Nick Rose pitched five innings, only allowing four runs. 
The Chiefs' second-round opponent was No. 19 Sheehan. Nonnewaug rallied twice for a 7-4 victory, a game that demonstrated tenacity and toughness by the Chiefs. After Dylan Chung and Owen Palmer walked, I hit a two-run single to put the team up three in the bottom of the sixth. The rally was launched by Brett Davino's ground-rule double that tied the score. 
"I think that we [were] hungrier than ever before," said Rose. "We [wanted] to win it all." 
After that, the Chiefs defeated No. 22 Killingly, 8-0, in the quarterfinals behind the pitching of Rose, who threw a two-hitter with seven strikeouts and two walks. With a leadoff walk, Davino began the rally in the first inning. He stole second base, advanced to third on Chung's groundout, and came around to score on Ryan Ponte's single to left field.
Nonnewaug increased their advantage in the second inning. Palumbo walked, then was bunted over to second by Lucas Savarese. Davino's single to right field with two outs brought in Palumbo, moving Barksdale up to third. Nonnewaug expanded its lead to 5-0 with two more runs in the third. 
"We prepared for every game in the tournament," said Ponte. "We [didn't] take any team lightly and [worked] really hard in practice."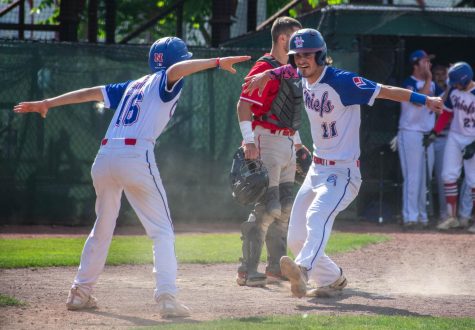 In the state semifinals, the Chiefs faced No. 7 St. Joseph, the top-seeded team from the Fairfield County Interscholastic Athletic Conference. With two singles, a stolen base, and a run scored, Chung aided his own cause on the mound. I also had a hit and two RBIs, while Ponte had two hits, three stolen bases, two runs scored, and an RBI. Sam Scott singled and scored a run, while Matt Palumbo's sacrifice fly added another RBI.
In order to take a 6-2 lead, Nonnewaug scored two runs in each of the first, third, and fourth innings. Before St. Joseph scored twice in the sixth to cut the deficit to seven runs, the gap had increased to four runs once again. Chung tossed a complete-game gem and Palmer fielded the clinching grounder at third base to help the Chiefs advance to their first state championship appearance since 1999.
In the final, the Chiefs faced a 5-0 deficit in the third inning before exploding for eight runs in the bottom of the inning. Palumbo's two-run double in the fifth proved to be the game-winning hit, and Rose recorded the save by stranding two runners in the seventh inning. Palmer again recorded the game-winning putout when he snagged a grounder near second base and tagged Wolcott's runner to seal the 10-8 win.
This team has been playing together for 10 years, even on the pitching machine. From having an undefeated season in middle school, fighting through a lost freshman season due to COVID, losing in the quarterfinals sophomore year, and the heartbreaking first-round exit junior year, it all culminated in a state championship.  
"We have been playing together since we were all little kids," said Chung. "We believe in each other, and have a team relationship that is hard to come by." 
"It contributes to a lot of things in the game," said Rose. "We always have each other's back, and we rally off each other. It's great to have a team where we can all be happy for each other and win at any cost." 
The entire community anticipated the state finals because they knew that regardless of the outcome, this team accomplished something incredibly exceptional. The Chiefs have served as a reminder that despite obstacles, aspirations are still possible to achieve and that healthy competition brings out the best in everyone.
This is the opinion of Chief Advocate sports editor Ben Stewart, the Chiefs' starting left fielder who wrote this column prior to Nonnewaug's 10-8 victory over Wolcott in the Class M state championship. Some parts of the column have been edited to reflect the championship victory.