The 2023 Berkshire League Banquet Belonged to Nonnewaug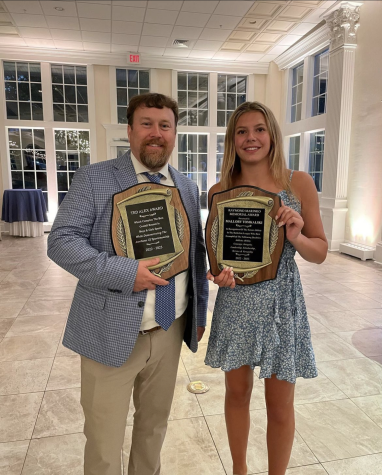 SOUTHINGTON — The 2022-23 Berkshire League Banquet once again belonged to Nonnewaug. This banquet honors athletes who earned BL First Team All-Star honors in their sport. Not only did Nonnewaug win the Ted Alex Award for a second straight year, but senior Mallory Tomkalski also won the Ray Marinko Award.
Along with these two outstanding awards in Nonnewaug's name, the Chiefs athletics program won six BL titles throughout the year.
"The Ted Alex Award is one that represents winning the right way. Our athletic accomplishments are always what drives us to success," said Declan Curtin, Nonnewaug's athletic director. "However, that path needs to be filled with positive relationships between opponents, fans, and coaches. For me, that is what the Ted Alex Award stands for."
Winning this award in back-to-back fashion speaks to the strength of Nonnewaug's athletics program.
"Winning it back-to-back represents the positive culture that we strive to instill in our student-athletes and coaches," said Curtin. "We are a very competitive school that always recognizes the value of our Vision of a Learner statements. For instance, it's important for our athletic department to adapt and adjust, persevere, and demonstrate empathy towards our opponents during their worst of times."
Tomkalski, Nonnewaug's three-sport BL All-Star, won the Ray Marinko Award, an award given to an athlete who not only shows great sportsmanship and athleticism but also shows outstanding academic performance.
"It was really an honor. The award means a lot and it was great to feel like all the hard work I've put in for Nonnewaug came together as something big," said Tomkalski. "It was awesome to see all the great previous winners who are all extremely impressive people."
Tomkalski, Nonnewaug's essayist as third in her graduating class, is bound for Clemson on a pre-med track. 
Listed below are the names of the athletes who earned a BL All-Star First Team spot in the 2022-23 school year.
Fall
Field Hockey: Zoe Inglis, Sage Mauro
Girls Volleyball: Sarah Cipriani, Mackenzie Pfahl
Girls Soccer: Samantha Conti, Layla Coppola, Gianna Lodice, Carley Shook, Mallory Tomkalski
Boys Soccer: Dylan Chung, Andrew Greene, Nick Pannofino, Christian Swanson
Boys Cross Country: Jake Cenatiempo
Girls Cross Country: Julianna Bellagamba, Sara Norton
Winter
Swimming and Diving: Julia Longoria, Grace Walkup
Wrestling: Jeffrey Bernardi, Aiden Cooper, Kayden Guillet, Jackson Krajeski, Durkin Stankevich, Jack Wendel, Grant Wilmot
Girls Basketball: Samantha Conti, Fiona Gengenbach, Mallory Tomkalski
Boys Basketball: Benjamin Stewart
Spring
Girls Tennis: Skylar Chung, Sam Duncan, Maggie Keane, Emma Primini, Mallory Tomkalski
Boys Tennis: Jackson Brent, Luke Cenatiempo, Andrew Greene, Luke Primini, Kyle Viveros
Baseball: Dylan Chung, Brett Davino, Owen Palmer, Ryan Ponte
Boys Track and Field: Jake Cenatiempo, Alexander Gibbons, Nikita Nicholas, Ethan Perez, Gavin Sandor
Softball: Allysa Calabrese, Sarah Cipriani
Girls Track and Field: Julianna Bellagamba, Maia Colavito, Sophia Garguilo, Emma Jackson, Gianna Lodice, Juliette Nichols, Veronika Nicholas, Ellie McDonald, Leah Murphy, Ella Quinn