WOODBURY — With many senior departures, the Nonnewaug boys soccer team had 13 pairs of shoes to fill entering this season. With a record of 14-3-1 in 2022 and an appearance in the state tournament second round, the Chiefs look forward to doing it again and advancing further with a largely new group of players.
With 13 graduates gone, the team faces the challenge of filling spots on the field during games.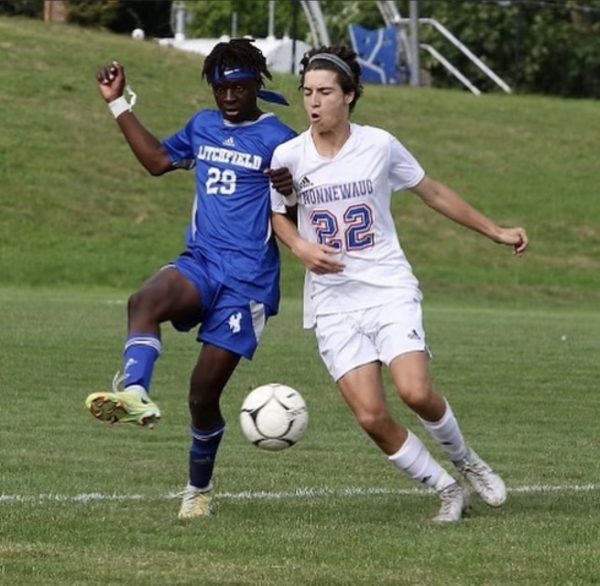 "That is the biggest [group of seniors] we had in a long time," said head coach Toby Denman. "Every year is its [own] dynamic and we just do our best to prepare with the personnel that we have. The personnel that we have this year is excited about opportunities and eager to compete, and practices reflect that enthusiasm. So far this year, we've gotten by on belief and getting after it and stuff like that, and so far, so good."
This year's team includes a number of first-time starters who have been waiting for their chance.
"It hasn't been difficult to fill because we luckily had a lot of guys ready to play," said senior Adam Budrewicz, "with a lot of them being skilled enough to step up to fill the seniors' spots."
The first game of the season was Sept. 12, when the boys defeated Northwestern, 2-1. As of Sept. 29, the Chiefs are 5-0-1 overall.
"We have to fight a bit more for each win," said Budrewicz, "but we manage to pull together and take what we can."
The team currently has six seniors, and each plays a contributing role to the team.
"The team did pretty well filling in their shoes," said Denman. "We have a bunch of upperclassmen who are grasping their first real opportunity to play at the varsity level, and there are some underclassmen that came in and are showing that they are ready to contribute right away."