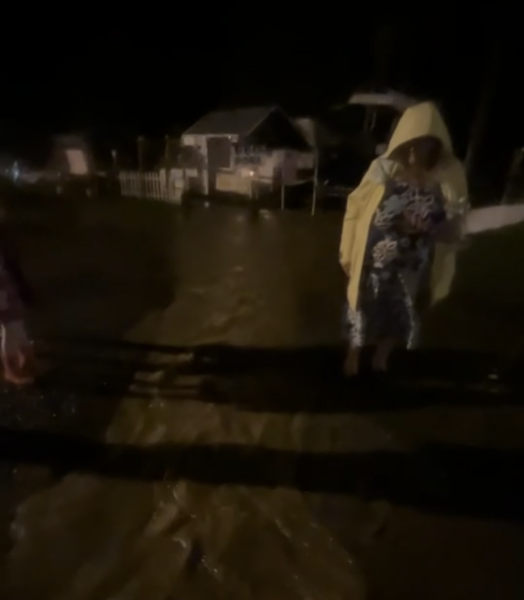 BETHLEHEM — Rain, rain, go away.
At the start of every fall season, a familiar sight lights up the small town of Bethlehem. Bright lights and flashing colors turn the town into something alive.
With nearly 35,000 visitors each year, according to the fair's website, the Bethlehem Fair brings life to a town with fewer than 3,500 people.
Unfortunately, this year's forecast wasn't too good — not just for the weather, but for the fair's vendors. Rain, sometimes including heavy thunderstorms, persisted over the grounds for most of the fair, held Sept. 8-10.
For Crow's Nest Mexican Food owner Kevin McCarten, the rain drowned his business' profit.
"The rain has kept everybody away and has made for the worst year since I've been doing the fair," said McCarten. " Our profit has been the worst ever."
Classic Cuisines' Whitney Charpentier says she's seen worse.
"We have been to the Bethlehem Fair for about 25 years, [and] we've had full rainouts before, so it's not the worst we've had," said Charpentier.
Dan Szabo of Szabo's Seafood stays optimistic.
"Our sales have been significantly worse [compared] to past years, but we will get through it," concluded Szabo.
Weather can be a make-or-break situation for vendors.
"This has been a bad year because of the rain, and business is dependent on the weather," said Szabo.
"We've been in the business for a long time, so it is how it is," Charpentier concluded. "You can't win them all."
Despite downpours, Boy Scout Troop 3 of Torrington kept selling bottled water. Troop leader Jeffrey Seiser has been attending the fair for 25 years.
"I don't ever remember it raining for the full three days," said Seiser. "There has been a huge shift in attendance."
Young scout Eli Moskowitz didn't let the rain bring him down.
"The rain has slowed down customers, but we aren't bothered by it as much," Moskowitz said on Sunday. "We aren't
going to let the rain rain on our parade. Nothing can bring us down."