WOODBURY — Summer is undoubtedly the best time of year to try something new and different for yourself. For some people, that may be making a big change, but smaller experiences can be fun, too. For Conor Gereg, an NHS faculty member and coach, summer was about making the decision that it was as good a time as any to grow a mustache.
"I originally grew it, ironically, as a joke to make my friends laugh," Gereg said. "Some friends from college, and some family members, gave me a hard time about it and that made me want to keep it even more. Fast forward to the first opening days of school and it seemed like something my friends here at NHS would think it was absurd enough to find humorous as well."
And that they did, with even a few of his colleagues, including teacher Kyle Brennan, going so far as to bet a few bucks in a futile attempt to persuade Gereg into keeping his new mustache.
"It was a good looking mustache and he should have kept it, at least for a couple days, at the start of school," Brennan said. "It was clear he needed some convincing, but his willpower was just too strong to overcome."
Although few were able to see this allegedly awesome mustache, Nonnewaug teacher and soccer coach Tobias Denman could only offer praise when asked about it.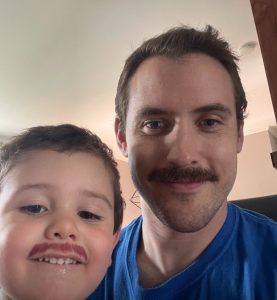 "I'll say this about Gereg's mustache," Denman said. "For something that appeared to start as a joke, it actually became a pretty high quality looking mustache."
Nonnewaug teacher and volleyball coach Martin Malaspina agreed. 
"I don't think I've seen Mr. Gereg ever look better than when he's had a mustache," Malaspina said.
With all of the approval coming from his fellow teachers, along with some cash profit, most were left wondering why Gereg made the decision to shave his summer mustache right before the first day of school.
"He shared a photo over the summer of him and his family meeting some of the UConn women's basketball players and coaches while they were at UConn," Brennan said. "He had the mustache in that photo and he looked like an esteemed world traveler — almost like Carmen Sandiego. To deprive students of that same, most interesting man, makes me slightly disappointed."
Despite the multitude of compliments, Gereg explains his decision was made when he realized he did not want all of the responsibilities that came along with having a mustache.
"I wasn't prepared to be a mustache guy," Gereg said. "Being a mustache guy would require me to get new clothes, new friends, new personality, and I'm not ready for that phase of my life yet."