WOODBURY — Video games, as with any medium, have had many elements come and go, always striving for the latest and greatest in terms of gameplay and visuals. One series has stuck around since the early days of the industry and yet continues to surprise its players – Super Mario Brothers.
If you know anything about gaming as a medium, you would know that Mario as a series has become known as both the best-selling video game series of all time and the poster boy for video games as a concept. He was there to define the platformer genre, refine it, bring that formula into the third dimension, and experiment with what was possible in a 3D space. 
Be it the crunchy sprite-based action games of the '80s, the transition to polygonal open-ended worlds and voice acting in the '90s, more cinematic story elements and orchestral music in the 2000s, all the way to today, where Mario is featured in a variety of mediums, it's not just the games that made him famous.
"Mario is one of the most recognizable brands in the world today," Nonnewaug video game design teacher Will Michael said. "The Super Mario Bros. Movie proved this popularity with record-breaking ticket sales grossing over a billion dollars in its first few weeks in theaters. Mario is popular among many age groups ranging from children who play video games on the new systems to their parents who remember growing up with Mario in the 1980s and 1990s. Even young adults now, who grew up in the 2000s with Mario, may have a connection to him."
Mario in general within the last year or so has expanded greatly both into new genres and into new mediums. Be it expansions of the LEGO Super Mario building set range, new race tracks added to the uber-popular Mario Kart 8 Deluxe, the opening of the first United States-based Super Nintendo World theme park in Universal Studios Hollywood, or new game venues like the tactics adventure, Mario + Rabbids: Sparks of Hope. There has been so much growth in the last decade, that children in the US are more likely to know Mario than Mickey Mouse.
Though, the biggest announcement for Mario wouldn't come until the summer's end.
On Aug. 30, the first day of the Nonnewaug school year, Nintendo announced on its social media pages that "Super Mario Bros Wonder: Nintendo Direct" would be streamed live on YouTube the following day. A "Nintendo Direct" is a streamed video created to give the public new information on Nintendo games, in this case pertaining to the latest mainline Mario title.
Seeing this video's insane performance at over 2.6 million views on YouTube, combined with Mario's other major events throughout the last year, just reinforces how much of a cultural phenomenon Mario and his universe of characters are.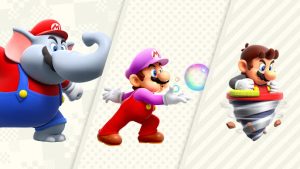 Being the first side-scrolling Super Mario game in 11 years since 2012's "New Super Mario Bros. U," the decade-long gap allowed Nintendo's developers to completely reinvent how a Mario game should be experienced. 
The story of the game is short and sweet, Mario, Luigi, and their friends are invited to a place called The Flower Kingdom by a new character named Prince Florian. Bowser, the series main villain then appears, throwing the kingdom into disarray after fusing together with the Prince's Castle via the game's new "Wonder Flower" ability. Now it's up to Mario and friends to save the kingdom and stop Bowser's evil scheme.
The game boasts a sizable roster of 12 unique playable characters, three brand new powerup abilities, and movement upgrades via the "Badges" system. Additionally, with the game's new "Wonder Event" mechanic, the courses players explore will transform or alter after touching a "Wonder Flower." Be it inanimate objects coming to life, Princess Peach outrunning a stampede of enemies, or Luigi turning into a massive spiked ball, anything is fair game when the Wonder Flower is active. Every course in the game has one, so always expect absurd events to take hold along your adventure.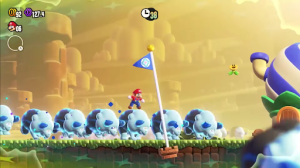 "One critique I have about Wonder is that Yoshi can't use the Power-Ups that the other characters can," said Oliver Boroski. "Especially since Yoshi is a fan-favorite character everyone's gonna choose, it's weird he can't use items like he could in Super Mario World."
Fans of the series had also thought the previous side-scrolling games had become stale, namely thanks to the generically themed "New Super Mario Bros" series that had defined Mario during the early 2010s, with many seeing the new game as a way of breathing new life into Mario's classic gameplay and artistic qualities, and on par with Mario's 3D outings such as 2007's "Super Mario Galaxy."
"In my opinion, it is geared towards gamers that may have missed out on the early 2D versions of Mario," Michael said. "Nintendo appears to want to show current gamers the fun of a classic platform game." 
Super Mario Bros. Wonder launches on Nintendo Switch on Oct. 20.
If that wasn't enough for Mario fans to chew on, just over two weeks after the Mario Wonder Direct, on Sept. 15, Nintendo had another direct presentation talking about games coming in 2024. Within, they showed off four new Mario video games for this coming year.
Mario Versus Donkey Kong:

"A Multiplayer Compatible Remake of the 2004 GameBoy Advance puzzle game. Help Mario save the city, and recover the stolen Toys from Donkey Kong."

Princess Peach Showtime:

"A new whimsical adventure game starring Princess Peach themed to stories and a stage play. Change into different costumes to take on new obstacles! Can Peach save this performance, and its performers?"

Luigi's Mansion 2 HD:

"A Visually enhanced version of the 2013 3DS Ghost Hunting Exploration game. Help Luigi, Polterpup, and Professor E.Gadd save Evershade Valley's friendly spooks from the evil King Boo."

Paper Mario: The Thousand-Year Door:

"A complete reimagining of the fan-favorite 2004 Nintendo GameCube entry of the long-running Paper Mario series. Help Mario, Goombella, and a cast of wonderful characters befriend the residents of Rogueport, unlock the secrets of the Thousand-Year Door, and stop the X-Nauts from taking over the world."
Seeing these announcements upon what Nintendo was putting out in 2023 just shows how far Nintendo is pushing the series after the Super Mario Bros Movie's insane box office success across the globe. They have more eyes on Mario than ever, so they are pulling out all the stops in both celebrating the series' greatest moments and gesturing towards the next-gen future of Mario. Exasperated even further with the Holiday 2023 releases of a full remake of the SNES classic "Super Mario RPG: Legend of the Seven Stars," the brand new "WarioWare: Move It" alongside the major release of Super Mario Bros Wonder.
All this just shows how malleable Mario as a series has been for so long. Fitting any mold, any medium, all with a jolly "wahoo!" and "it's-a me!" to go along with it. It's safe to say that this plumber isn't going anywhere anytime soon.
"Mario's deceptively simple backstory leaves a lot of room for the individual's imagination, and this may be another reason he has remained popular for such a long time," said Michael. Nintendo has not spoiled his essence by trying to make him be something that he is not — you know what you're getting with Mario."