WOODBURY — A and P: two letters which, when put together, immediately set off a panic alarm in the minds of high school students everywhere. 
This mental alert is understandable – Advanced Placement classes are synonymous with fast pacing, heavy course loads, and requisite stress. While this may be true – to an extent, anyways – taking AP classes can be highly beneficial to those students looking to bring their transcripts up a notch, and challenge themselves to a higher level of learning. 
For those who are new to the world of AP, there are plenty of tips and tricks that are worth knowing going into the school year. At Nonnewaug, plenty of students and staff know what AP is all about, so there's no need to look far for advice.
Take, for example, Megan Keating – a senior who is enrolled in not one, not two, but six AP courses this year, one of which she is taking as an independent study course.
"I am taking AP Calc AB, AP Spanish, AP Chemistry, AP Statistics, AP Literature, as well as AP Physics as an independent study," Keating said of her course load. "[Last year I took] only AP Lang and AP Biology."
Without even knowing much about APs, anyone could tell that these are some heavy hitters. Yet somehow, Keating is balancing all of them – and when she breaks it down, her organizational system is actually pretty simple.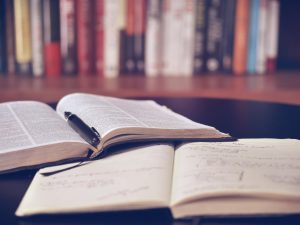 "I have a folder with eight folders inside of it which each is separated and labeled by subject. I use this to put all documents and papers in according to the subject," she said – a fairly standard strategy. "I also have a notebook for each class so that everything is separated." 
So, tip No. 1: basic organization to keep each class' work separated and make things less cluttered. But what about the work itself? Keating has some AP-level methods for staying on top of that, too.
"When doing homework I usually begin with the assignment I think will take the longest and move up to the one that will take the shortest amount of time," Keating said. "This way my energy is used well for what I need to get done." 
Simple, organized, and efficient – a surefire regimen to stick to for students like Keating and anyone looking to take on the challenge of AP courses. 
As for note-taking and studying, Keating emphasizes that remembering the little things helps to make note-taking the most effective it can be. 
"I find that writing a header is always a good start, no matter how important or unimportant the notes are," she explains. "Each page has the class I'm taking notes for written at the top of the page, usually color-coded, and a slight header on the side indicating what will be written below. I always write down definitions as well as examples."
Keating also emphasizes that when studying, it helps her to "have a clean room and all other things done" before she begins studying, so that there aren't any little distractions present. 
"Once I do I will play some study music, usually lo-fi or piano and sometimes guitar," she said. "I will begin with all studying that pertains to using a computer and then switch to everything that is to be written on paper."
Overall, Keating's advice comes down to this: Pay attention to the small and often overlooked things to make your habits the most effective. As the saying goes, when you take care of the small things, the big things take care of themselves.
It's not just Keating that believes this, though. When asked what their top piece of advice concerning AP classes was, other members of the senior class had similar remarks.
Skylar Chung's advice: "Stay focused in class – don't doze off, pay attention."
Sam Duncan: "Set aside time per week to study specifically for AP."
Nicole Cappelli: "Take notes, do all your homework, and study."  
Luke Cenatiempo: "You've got to really dedicate some time to it. Don't wait until the last minute."
While all offer slightly different comments, the overall focus is on remembering the small details. Setting aside the time to take organized notes, study, and get the most out of homework assignments is what sets aside the best from the rest in AP classes. 
After all is said and done, here's the big question: while these strategies may all seem legit, is it really worth students' time to take the APs, even if they might not pass the big exam come May?
Jack Rubacha, last year's salutatorian, seems to think so. 
"AP classes helped in my preparation for college academics," the Nonnewaug alum, who took 11 AP classes during his high school career, said of his AP experience. "I learned about how to better take notes and manage my workload. Additionally, I can study and analyze real-world problems better than many of my peers who never took the opportunity for APs." 
Rubacha was able to transfer all of the AP test scores he received to his college education at Northeastern University, although he says that some were more useful than others due to his major track. 
Nevertheless, taking the APs "put me a semester, [and] in some cases, two semesters, above my classmates," he says.
While they may be intimidating, success in AP classes lies in focusing on the small things. Learning how to take notes, do homework, and study may seem monotonous, but conquering these skills with a few simple processes can change the AP game for students who are new to the rigor. And as Rubacha describes, that impact goes beyond your high school transcript.
"Overall, there are almost zero downsides to taking APs," he says. "Even if you don't get that 4 or 5, you will be in a better position come first semester of college."