WOODBURY — It's that time of the year for Senior Field Day! Seniors participated in activities with teams collaborating throughout the whole day. Senior Field Day seemed to be a hit, as it seems to be every other year.
The teams met early on the morning of Sept. 22 in preparation for a fun-filled day of activities such as dodgeball, tug of war, Family Feud, musical chairs, and a few other games.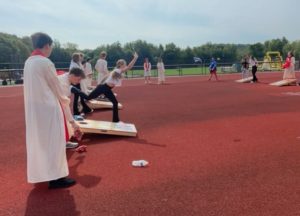 "The planning hasn't been too terrible because Mr. [Kyle] Brennan gave all of his planning ideas from last year, and it has been much better," said Chris York, class of 2024 advisor and one of the teachers in charge of field day. "It was more structured and helpful, but a long process and stressfulness with teams as some kids don't want to participate."
Seniors enjoyed the experience of spending a fun day with each other considering their high school careers will soon come to an end.
"It's special because it's supposed to be one of the last times we have together as seniors in high school, so it was fun to get together and do this," said senior Sara Norton.
"Especially in the fall, only having a few more times to be together and a handful of events left. Seniors are kind of adults and have fun and act more mature now," said York.
For some, the memories made were long lasting.
"We had a great time and I will never forget the memories that we all shared together," said senior Madison Ocasio.