WOODBURY — The Woodbury Fall Fest returned to town as a fantastic way to bring the people of Woodbury together and kick off fall. The Woodbury Fall Fest offers so many fun fall activities, food trucks, vendors, treats, and memories for the people who visit.
This Fall Festival took a break for multiple years. When it came back to the town, it was bigger and better than ever. People in Woodbury and surrounding towns have been looking forward to the Fall Fest since it was announced that it would be held again this year on Sept. 17.  
The Woodbury Chamber of Commerce was right on top of things. After they got approval for the event, they set out looking for businesses that wanted a spot at this festival.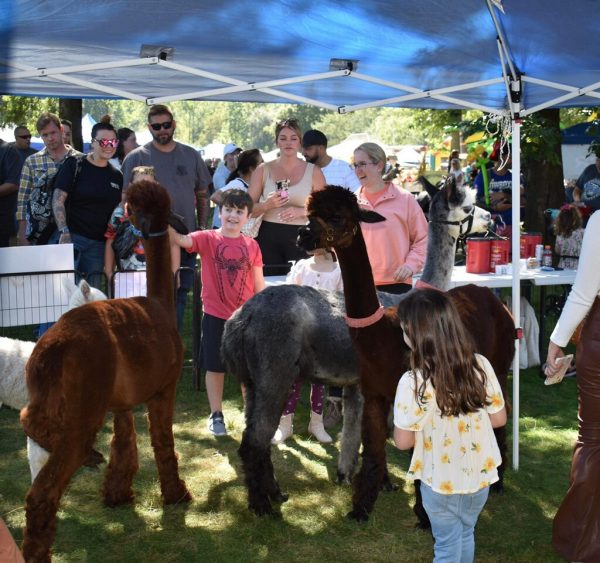 "I really enjoyed the opportunity to be a part of making this event as well as [be] a vendor at such an amazing festival," said Ashley Nelson, a member of the Woodbury Chamber of Commerce and vendor. "I think being able to see the event come together so nicely was really nice to see and know that it had been a success."
Crowds started rolling in at 10 a.m.
"We were hoping for a few hundred people," said Nelson. "We got a few thousand with a constant flow of people." 
Businesses were swamped with people throughout the entire day. Children had the opportunity to pet and feed alpacas, and there was axe throwing for teens and adults. Food trucks served the lines of hungry people. Vendors could have never expected the outcome of this event. 
"My absolute favorite part of the Fall Fest is the interaction with folks," said Brendan Reig, member of the Woodbury Chamber of Commerce. "I like to see and talk with old acquaintances and friends and make new friends."
This year's Woodbury Fall Fest was everything that people could have been and more. Members of the Woodbury Chamber of Commerce were delighted to see what they were able to put together.  
"[Fall Fest helped to] shine a light on some of the businesses that may be unnoticed, giving them some outlet to meet with new folks and enjoy our community," Reig said.