WOODBURY — There are so many different ways farms distribute and display their pumpkins, but how do consumers use the pumpkins they get? 
"Now that it's fall [season], pumpkins are very popular so we are selling a good amount of them," said senior Jill Brown, an employee at Rooster's, a landscaping and supply company in Oxford.
Despite the popularity of large commercial chains, locals still reign supreme when it comes to purchasing pumpkins. 
Farms can display pumpkins in many ways, two of which are to let them grow in a field and have customers come and pick them out themselves.  Others will send them to a farm stand to sell or sell them on their own. 
"We purchase them [pumpkins] from somebody else in bulk, and then we sell them," said Brown. "I would say pumpkin patches are more traditional to go to than buying from a store, but it's more convenient buying from a store, rather than a pumpkin patch."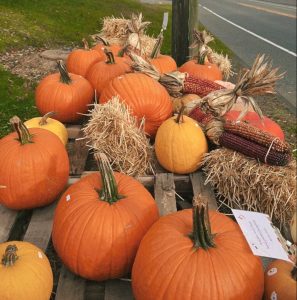 Here in Woodbury, Nonnewaug has found a range of uses for fall pumpkins. Many of the school's pumpkins are from local farms.  
The FFA chapter officers went to pick pumpkins Oct. 23 after school. 
These pumpkins are for the Woodbury FFA program's yearly pumpkin carving contest. This annual event is one of the most popular events the program hosts. Students and ag teachers get together after school to carve pumpkins that are then judged by the student body, and then these carvings are placed around the school as decoration.  
The officers went deep into the back of the fields and picked about 30 pumpkins from each farm, all donated and picked by the FFA officers.    
"We usually get pumpkins donated from DeSantis Farm in Watertown and Logue Farms in Woodbury," said Jennifer Jedd, Ag Director at Nonnewaug. "In total, we usually get about 50 to 60 pumpkins for students to carve. This year we also got some pumpkins donated from our alumni that they used at their car show."