WOODBURY — Agriscience faculty face many responsibilities during the week of the National FFA Convention. Students, teachers, and parents go to nationals every year to compete and show what the Woodbury FFA chapter can do, while those who don't go have to pick up the slack at Nonnewaug.
Kathleen Gorman, the ag production teacher, was faced with several new responsibilities during this chaotic week. 
Marisa Bedron, the equine science teacher, as well as Jennifer Jedd, the vet science teacher, were away at nationals to guide competing teams. This left Gorman with all of the animals on the property under her care.
"I come in early to make sure all the barn chores are done," said Gorman. "I stay late to turn in the horses."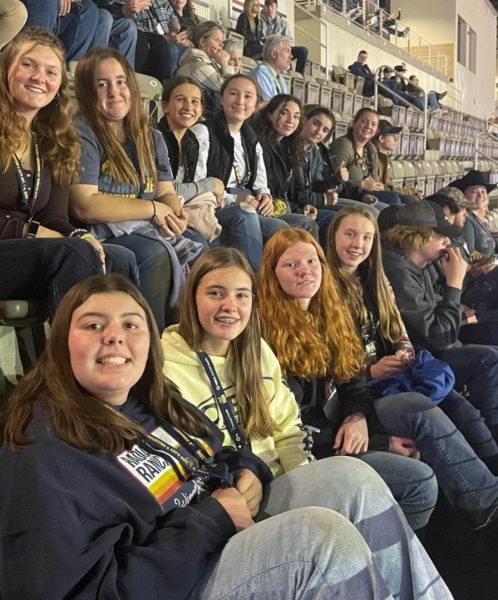 The remaining teachers were also left with the responsibility of making sure that there were always substitute teachers in classrooms, as well. Substitute teachers are unable to do all of the things the normal teachers would have been able to do; this limits the lessons and activities for the students.
Students have their own ideas about the teachers being gone. Junior mechanics student Jakob Reynolds feels that ag mechanics teacher Andrew Zielinski being gone affected their class a lot. 
"We can't go into the shop and we [did] a lot more paperwork," said Reynolds. "It's hard not being able to be hands-on while the teacher is gone."
As for the teachers away at nationals, their week wasn't any easier. Thomas DiMarco, the landscaping teacher, was away with his team.
"It was a stressful week," DiMarco said. "It was very long days. You're waking up at 6 a.m. every morning and making sure that students are in rooms by 9 p.m. and are going to sleep around 10 p.m. For the teachers, it's even later, so it's definitely long days."
The students and teachers, as stressful as their week was, were able to enjoy themselves and have fun with each other in Indianapolis.
Aside from competitions, students and teachers were able to enjoy their time at the FFA National Convention. The rodeo, shopping, meeting new people, and so much more made their week that much more enjoyable.
"Overall, though, we had a good time," said DiMarco. "The team did well and I'm proud of what they were able to do."