Trzaski Inspires Her Students and Uplifts Her Department, "Irreplaceable" at Nonnewaug
WOODBURY – When a young Rebecca Trzaski attended her college's freshman orientation, she was not aspiring to become a teacher. In fact, her plan had been to attend school for accounting. Despite a love for the classroom, she had never considered teaching as a possible future for herself. 
However, when she entered on her first day, she was immediately faced with two lines: one for the school of business, and one for the school of education. The line for the school of business was crammed, running out the door and down the street, while the line for the school of education was nearly empty. Ms. Trzaski had had no intention of becoming a teacher before that day; she had no idea what to expect. But she saw something new, something others were ignoring. She saw a challenge and an opportunity to do something different. 
And she took it. 
Ms. Trzaski has been teaching for 16 years. For the last 4 years, she has occupied many positions throughout Nonnewaug's social studies department, including teaching history, law, and civics classes. She is known by students and staff as an energetic, passionate force in the classroom who inspires those she teaches. 
NHS senior Sierra St. George said Ms. Trzaski's guidance has profoundly impacted her academic future. 
"Basically, she [Trzaski] made me realize that I don't want to be a nurse. She made me realize that I want to study political science in school and pursue social justice instead."
Before taking Ms. Trzaski's civics class her junior year, Sierra had had her sights set on a future in nursing. Nursing was a path St. George never thought she would stray from, but  Ms. Trzaski's teaching style and passion for the subject matter inspired her. In an act of history repeating itself, Sierra felt compelled to shift her focus elsewhere and do something different, just as her teacher had before her.
Trzaski herself is immensely proud of her St. George's decision, and feels humbled to know that she had such an impact on her life. 
"I think as teachers, a huge inspiration and motivation is the belief that we had an impact…and to actually hear it stated is just a feeling that I cannot even put into words. Just knowing that I played a role in helping her find her happiness is just … it's what keeps you going on a daily basis." 
In her four years at Nonnewaug, Ms. Trzaski has quickly become an important member of the school community. She is recognized as a dedicated and skilled educator and an example to her peers. 
"She is the best teacher in the department, and is among the best I've ever worked with," said Michael Sturges, a fellow history teacher and colleague of Ms. Trzaski's. "I hope she understands how important she is here." 
Ms. Trzaski has been praised above all else for her energetic and passionate approach towards teaching. She is known as an individual who "never stops," and someone who is constantly challenging herself and those around her to be better educators and better people. 
"I really admire how she is able to always stand up for what she believes in," said Marisa Christoff, another fellow social studies teacher. "She is a wonderful civics and law teacher because of how passionate she is, especially when it comes to making the world a better place and doing what's right." 
According to those she works with, Ms. Trzaski is unmatched in her enthusiasm towards teaching. The energy and dedication she brings truly sets her apart both in and out of the classroom. 
"She's the reason we have History Day. She's the reason we have AP Gov and are getting back the AP Euro course. She's taken on so many challenges," said Mr. Sturges. "She deserves, and I think should, take a break – Not that she ever would." 
In her own words, Ms. Trzaski said she is "constantly changing and learning, and trying to, everyday, challenge myself to be a better teacher. So I think that the day I stop trying to be a better teacher is the day I need to retire. Because there is always more you can do, always."
About the Contributor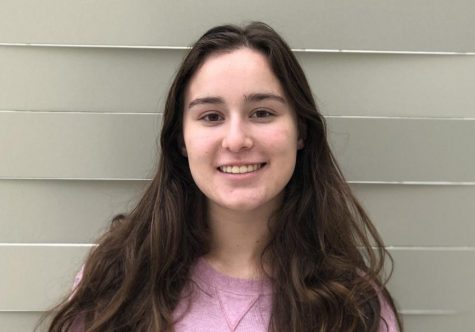 Gillian Brown, Clubs/Activities Editor
Gillian is a junior and second-year journalism student who is the clubs and activities editor of the NHS Chief Advocate. She has been writing on her own for years and considers it one of her passions. Gillian is a member of Nonnewaug's Drama Club and participates in the school's musical production every year. She is also a member of Wingman, serving as a peer advisor for incoming freshmen. She believes that writing for the Chief Advocate is one of the most interesting and rewarding opportunities offered at Nonnewaug, and she cannot wait to see how the website will grow and improve with the help of its new members and online platform.