Velleca is 'Simply Board'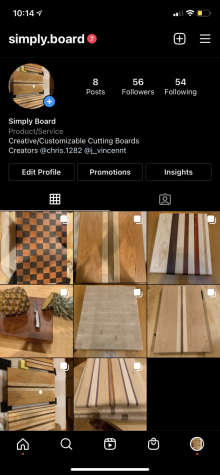 WOODBURY — Starting your own business as a high school student is extremely impressive, and Nonnewaug senior Chris Velleca did just that. 
Velleca had a hobby of woodworking and, with the help of Devon Bares' entrepreneurship class, he was able to turn it into a profitable and in-demand business.
Velleca launched his company Simply Board in October 2020 and sells cutting boards, serving platters, charcuterie boards, and other custom products. Every piece is unique, hand crafted, and high quality. 
"Every board is made to look perfect; I lay out the different types of wood beforehand and play around with what will look best, then assemble it. If I don't like how it came out, then I won't sell it," said Velleca. 
One of the reasons why Velleca's wooden cutting boards are so high quality is because he uses heartwood and makes end grains facing upward. This means the board will last a long time and will not dull the knife.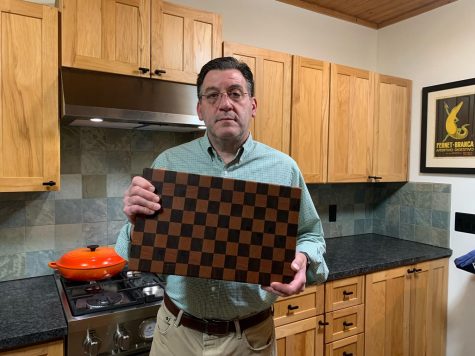 "His materials and techniques not only make a showpiece board, but using the end-grain for the cutting surface is better for your knives as you cut; they stay sharp. Chris also used several types of wood for me, making a checkerboard effect," said John Dominello, culinary teacher at NHS. 
"The quality of his work — properly glued seams, rounded edges and durable finish assist with making his board top of the line," continued Dominello. "He properly oils them prior to delivery and then provides you with a container of an oil/wax blend to help keep the board in great condition. Also, Chris made this board to my specifications, size, pattern, available wood, etc."
Dominello, who has been in the culinary industry for many years, had great things to say about Simply Board. "I have been working in kitchens with many types of cutting board for years. I believe that this is the best cutting board that I have had. It's the same quality as the heavy duty maple butcher blocks that were in my dad's butcher shop."
"This is handmade quality craftsmanship and, without sounding like an infomercial, it makes a great gift," said Dominello. "If you are in need of a cutting board, a showpiece for your kitchen counter, or a gift that will be appreciated (better than giving your dad a tie for Father's Day), ask Chris to make you a custom board."
Another happy customer is Tyler Cremeans, agriscience teacher at NHS, who showcases Velleca's board on his YouTube channel, Dishes and Fishes. 
"I use the cutting board only to dice vegetables, no meat ever touches it. You can look at the board in action on my YouTube channel @dishesandfishes," Cremeans said. "The board adds a nice touch to any kitchen as it is great to look at, and will last a long time if cared for and oiled properly. It is also a much better price than any board you will buy that is this quality. I definitely recommend this board to anyone that is even semi-serious about cooking or knife care." 
Check out @simply.board on Instagram to see Velleca's high quality and customizable boards.
This series of photos shows Velleca's board-making process.