Hodges Awarded Title of FFA Chapter Parliamentarian, Recognized for Positive Attitude, Ability to 'Think Outside the Box' 
WOODBURY — Alyssa Hodges is making quite a name for herself in the Woodbury FFA Chapter and Agriscience Department at Nonnewaug High School. A member of the Class of 2023, Hodges has become a rising star in the FFA, earning the title of chapter parliamentarian for next school year. 
According to the official website, the FFA, Future Farmers of America or For the Future of Agriculture, "is a dynamic youth organization that changes lives and prepares members for premier leadership, personal growth and career success through agricultural education."
"With more than 760,113 FFA members in 8,739 chapters in all 50 states and Puerto Rico, the National FFA Organization has a strong presence as the largest student-led organization in the nation," according to a statement by the FFA.
As chapter parliamentarian, Hodges will become a leader within the local FFA chapter;  her duties will include carrying out parliamentary procedure efficiently and helping with chapter run events during the year. 
Hodges, who served as sophomore block parliamentarian this year, was chosen for this new leadership role after an application and interview process with chapter advisors.
During a recent interview, Hodges spoke about why she feels so passionate towards the FFA and the Ag program here at Nonnewaug High School. "I've been in 4-H since I was 7 and have always loved animals. My three siblings also joined the Ag program, so I was already familiar with the program," she said. "I love leadership roles and agriculture, so chapter officers were something that could help me improve not only public speaking, but being a leader as well."
Hodges, who originally wanted to study veterinary science, is still undecided on her future career path, but she is certain she wants to work in an Ag-related field. "I definitely want to work in Ag production. I am thinking about farm management or Ag journalism."
Hodges has many role models in the Agriscience department. "My absolute favorite teacher is Ms. Jedd, who also teaches my favorite class, Ag production," she said. "Ag production is a great class, especially when you're looking for hands on learning. We work with animals every class. You learn a lot about animal management and health."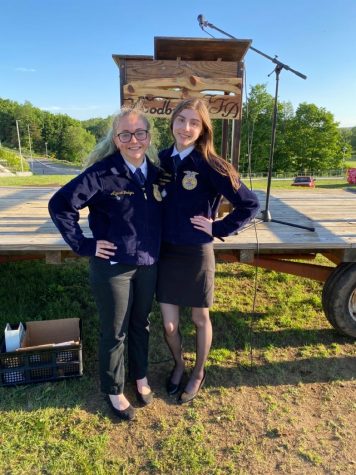 Jennifer Jedd, the Ag production teacher at Nonnewaug High School and Agriscience department chair, spoke about how Hodges has helped out in the sophomore officer team. 
"As part of the sophomore officer team, Alyssa has worked to help plan, budget for, and run a variety of events, including our cemetery cleanup project. Our sophomore officer team this year had to be very creative and figure out new ways to run events and new events to run due to [the pandemic]".
Jedd also added how Hodges stands out. "Alyssa can think out of the box and see an event through to its completion. Alyssa is always willing to help inside and outside of the classroom and does not stop until the job is done. Her positive attitude is infectious, and she does a great job of keeping the remainder of our officer team motivated".
Jedd continued, "[Hodges] received parliamentarian due to her dedication to parliamentary procedure, which is the rules of how to run a meeting properly and allowing a meeting to run fairly and efficiently".
Her teachers and peers agree: Hodges is a strong willed and determined person, and she is someone to look out for in the future.