College Application Season Has Started, and so Have College Visits at the CCRC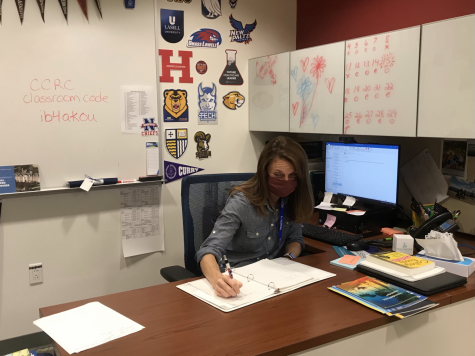 WOODBURY – College visits are an important aspect of the college application process. Getting to know a school through the information provided at these visits can help students to make decisions about which schools they want to apply to, and possibly attend. 
Last year, the presence of COVID-19 impacted much of our school, and college visits were no exception. The visits took a pause as health threats and travel restrictions were prominent across the country. Mrs. Kathy Green, College and Career Resource Director, says, "They're in person which is wonderful. [It's] great that schools are sending their reps on the road." 
This year, with restrictions easing, the CCRC is once again hosting various colleges to come and present information about their school to the students of Nonnewaug. Visits have already included schools such as Eastern Connecticut State University, Bryant University, Providence College, and Roger Williams University. Students are thankful for these visits, claiming they're a valuable tool to help the application process. 
According to Shelby Rushin, a senior at Nonnewaug, "I think [college visits are important] because it gets to know your administrators or at least one of them as they're going to be the ones saying 'yes' or 'no' to your application; so it's important to make a good first impression." 
Students are being offered a valuable resource to aid in their college application and decision making process. According to Mrs. Green, "I would encourage our students to take advantage of the visits in the CCRC, and if they really want to take full advantage, it's a great idea to do a little research in advance of the visit to know what kind of school they're walking into."
The visits are being held in the CCRC, located next to the library. During the visits, students are able to learn about the schools' offered programs, average cost, median test scores of students, and other information about the schools. This is all critical for students to use to help make decisions about their future. 
Juniors and seniors looking to attend one of these visits should visit Mrs. Green in the CCRC to get a pass. A calendar of all upcoming visits can be found on the Region 14 website, under the counseling department. Here, students can find the dates and times that the schools will be visiting. A link can also be found below:
https://www.ctreg14.org/schools/nonnewaug-high-school/school-counseling/school-counseling-ccrc-calendar