Nature vs. Farmer: The Effects of Hurricane Henri
"Hurricane Henri? I barely remember that storm, I can't even call it a hurricane!" Henri was an anticlimactic storm for most people, but not for  everyone. This storm was an unexpected punch to the gut for farmers this season. 
2021 has been a challenging year for local farms and farmers.  Four tropical storms have already impacted the northeast this year and even though Connecticut hasn't been officially hit by a hurricane, the aftermath of them has been detrimental.  Connecticut has been facing water related issues like nitrogen deficiencies, rot, and plant diseases coming from the storms this season. 
Aside from the storms, the year has been a very wet season for growing any crops with Connecticut being very close to above average precipitation with 113 inches of rain from July to August, according to National Centers for Environmental Information. 
As a result farms all over Connecticut have been affected, "We were concerned about the storm because one of our fields is prone to flooding and we already moved some of our crops in preparation for the storm" Maddie Orosz, Nonnewaug junior and employee at Massaro farm, says.  Their worries weren't for nothing, they were definitely hit by the storm.
"When I came to work on Monday The gravel roads washed away and the chickens were stressed out and I saw lots of crop damage,"  Orosz added.
It wasn't just Massaro farm's that had problems, Powers farm in Newtown had detrimental damage. "We had our main pasture fence get destroyed and most of our animals got out and found themselves almost half a mile down the road" says Shane Powers.
Also, the Wells family farm in Shelton had significant worries prior to the storm hitting. "Day by day, hour by hour we were storm tracking until the storm hit our farm," said Dan Wells, Owner of Wells Hollow Creamery. He had the right to worry because this wet season really hindered plant growth. 
"The corn stalks themselves are very weak and vulnerable to high winds, and the corn itself seems to be smaller than usual" that's not the only farm affected by the wet season, Shane Powers from Powers farms said. 
"The weather has really put a strain on our farm this year between being able to harvest crops in a timely manner and spending extra money on damages from the storm."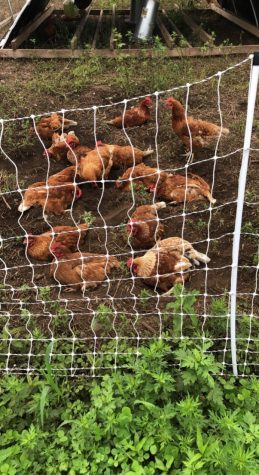 Marisa Bedron, NHS Agriscience teacher says, "We had to watch the pastures for grass growth so the animals didn't make large ruts in the grass." 
Wells also said,  "We aren't going to be able to use half of our field for parking because it's flooded" 
The effects of this storm were not only the damage to crops but to farmers' futures because of the resulting damage, ''5 chickens died including one of our biggest producers"' Orosz said.  Other animals would have gotten sick as well had they  not been moved. 
Also Wells Hollow was heavily impacted long term. "The damage is going to affect our agri-tourism business because our field was a corn maze,"  Wells said.  So not only is it going to require more time to fix the field but it'll cost more too.