'It's Beginning to Look a Lot Like Christmas' with NHS Band and Choir
The Region 14 community had their kickoff to Christmas this past weekend. The Bethlehem and Woodbury tree lightings took place on Dec. 3 and 4, respectively. 
Many community members attended, as this was the first time the events have happened since 2019 due to the COVID-19 pandemic. Families from Woodbury, Bethlehem, and other surrounding towns gathered on the town greens filling the streets with Christmas cheer.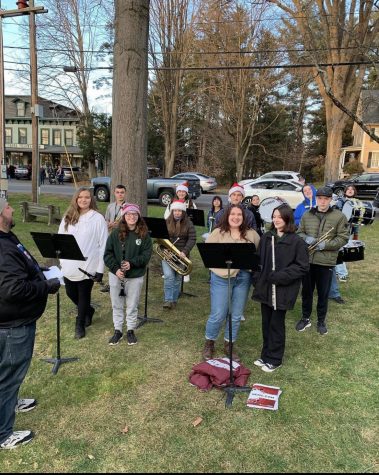 Nonnewaug's band and choir performed during both events, providing the ambiance of the nights. Bethlehem Elementary, Mitchell Elementary and Woodbury Middle School choirs also joined the NHS choir. 
In addition, a few members of the NHS orchestra learned how to play the bass drum and came along to perform with the band. 
"I thought it was going to be hard to learn [bass drum]," said Sarah Ruiz, senior violin player. "It was pretty easy to play besides having to hold that huge drum."
Returning band members were excited to be back playing in the ceremonies, one of the top events the department does. 
"It was a great experience to be back playing music in front of people and to have a sense of normalcy again," said Emily Lungarini, junior flute player. 
Underclassmen, who make up the majority of the band, had the opportunity to experience their first tree lighting events. Only six returning members of the band had participated in a tree lighting before, which meant they were able to help the current underclassmen.
"It was very heartwarming to see the happy kids and the Christmas spirit in Woodbury and Bethlehem," said sophomore saxophone player Devon Zapatka. "It was different playing outside in the cold weather, but it was a great experience and I am glad I was finally able to do it after missing out on it my freshman year."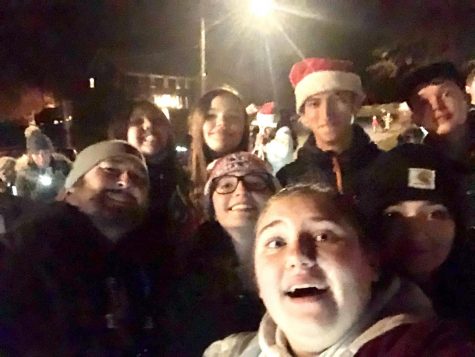 Dr. Jason Bouchard, NHS band director, Abigail Peck, NHS and WMS choir director, and Adam Snyder, BES and MES music teacher, were happy with the performances from the groups both nights. 
"It was nice to have the elementary kids along with us. They were very enthusiastic," said Peck. 
The next performances by the band will be at Nonnewaug basketball games.