Brutting Inspires Middle Schoolers to 'Win the Day'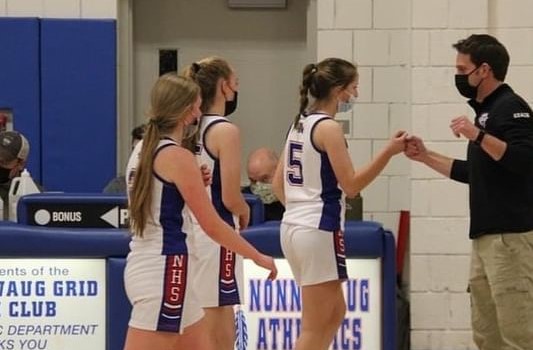 WOODBURY — When Adam Brutting was in the early stages of figuring out what to do for a living, he needed a little nudge from someone to get where he is today.
Now, having taught for numerous years, Brutting is the one nudging kids to go on their journeys in good spirits. He is an English teacher at Woodbury Middle School and the girls basketball coach at Nonnewaug High School.
"My first impression of Mr. Brutting was that he was a super easy-going teacher," said WMS eighth-grader Brynn Clampett. "He always makes his classes fun no matter what we're doing."
More than this, he is an optimist who roots for his students' triumph over obstacles, Clampett expresses.
"He's impacted me to always win the day and to go into everything with a great attitude," she said.
As a basketball coach, Brutting also radiates positivity to his players. Nonnewaug junior Sam Conti confirmed this, saying that he assists the team and "has their best interests in mind."
"He pushes you to your limits. He treats his athletes like his family and connects with them," Conti said.
However, Brutting himself had to clear his own obstacle course before becoming a successful educator.
"WMS is the only place I have ever taught," Brutting said. "Prior to teaching here, I had many different jobs to help me pay for school: scooping ice cream, waiting tables, painting houses, working in a machine shop, landscaping, working in a library."
Even so, teaching wasn't the career he was first set on. It was Brutting's father — who would've named him Wolfgang if it weren't for his mom's intervention! — that kickstarted his passion for the classroom.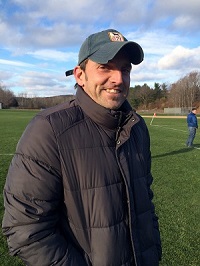 "Originally, I went to school to become an athletic trainer and physical therapist. One day, my father and I were discussing elective choices I had to take," Brutting reminisced. "He suggested an education class. I enrolled and for the class had to spend a certain number of hours in a school working with kids. I loved it and was hooked."
Now, he can't imagine doing anything else.
"Middle school kids are always full of life and keep you on your toes. Every day is new and exciting," he said.
It's clear that Brutting and his students reciprocate those positive feelings about each other.
"My goal is to keep in touch with him after middle school," Clampett said. "He's the best eighth-grade teacher we have!"
On a more genuine note, Brutting's goal for his current and future students is to see them become prideful.
"Seeing students have pride in what they do is one of the most rewarding things for a teacher and coach," he said. "Students that always give their best. Students that don't let a day go by where they say, 'I could have' or 'I should have.'
"I think when the end of the day comes, anyone who looks back and says they gave their all, they made the most of everything they faced, they took pride in all that they did, they will know that there was nothing more they could do and that was a good day," Brutting concluded.
Throughout the time he's been teaching and for more years to come, Brutting has and will continue to inspire those around him to make the most of their days, weeks, and years.
"I hope that when students leave my classroom," Brutting said, "they embrace the idea that they always do their best to 'win the day' no matter what challenges they face."