Road to Commitment and the Ambitious Process to Reclassifying
WOODBURY — Many Nonnewaug students are aware of junior Braeden Purser-Eber's commitment to College of Charleston earlier this year. However, this journey did not come easy. Sacrifices had to be made, and hard work has been put in. Purser-Eber's story, however, is far from over; he has yet to set foot on a collegiate field, and he has decided to reclassify and be considered a member of the class of 2024.
"The most significant sacrifice I've had to make for baseball is time," Purser-Eber says. "I've been playing baseball for most of my life, and it has taken up every summer that I can remember. I've missed parties to go to practice and games, I miss my brother's baseball games because I have to be at practice."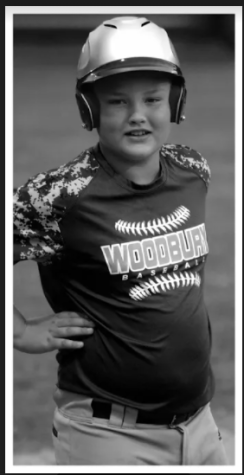 Purser-Eber will reclassify after his junior year at Nonnewaug and will attend either Cheshire Academy or Taft, moving to the class of 2024. Whether you're starting middle school or high school, transitioning to a new school can be difficult. 
"Reclassing is a difficult concept for a lot of people to understand," Purser-Eber explains. "I'm repeating my junior year to allow myself to further progress physically and refine my baseball abilities when I finally reach the next level. The opportunity of reclassing also gave me the ability to receive more scholarship money because baseball only has a specific amount of money they can give out. So becoming a 2024 graduate helps with the financial part of the schooling as well."
"The hardest part of my baseball journey is probably keeping my head up though the lows," Purser-Eber says. "Baseball is a hard sport where the best only succeed 30% of the time so there are times where you're going to struggle and I needed to learn that. Once I learned that you're going to fail, it became a lot easier to get back up and keep trying."
Purser-Eber will join a College of Charleston program that lays claim to seven NCAA tournament appearances, five regular-season conference titles, and two conference tournament championships, one in the Southern Conference (2006) and one in the Colonial Athletic Association (2014). Charleston has produced 27 college All-Americans and 62 professional players, including Brett Gardner of the New York Yankees. The last decade of prospects include Taylor Clarke (third round, 2015), Carl Wise (fourth round, 2015) and Heath Hembree (fifth round, 2010).
"Braeden has proved himself to be one of the leaders of our team and a key component to our success," says fellow Division I commit and current teammate Brett Davino, who will attend the University of Connecticut as a 2023 graduate. "A lot of the good defensive things start from the catcher position. In practice he pushes you hard and will easily get on someone if they lose focus. He's a huge building block to this team, it's great to be around him during practice and games."
Prior to Purser-Eber going up to Division I, Nonnewaug plans to maintain its dominance in the challenging Berkshire League this coming spring season with a BL championship. The majority of the starters from last years team are back, so this skilled and determined Nonnewaug group, which reached the Class S quarterfinals last season, has a bright future.
"I'm happy for the program," Nonnewaug head coach Frank Melillo says about the program's potential this upcoming season. "Brett and Brayden, they have worked hard and deserve to go D-1. The coaching staff is lucky to have players of this caliber coming through Nonnewaug High School. It is fun showing up for practice everyday and watching them show off their skills."
This year's team has the potential to be among the best teams in the state. This group, in turn, will have to work as a unit under the leadership of the Division I prospects and captains. There is no limit to how far this squad can go, but it all depends on how hard the players are ready to work to achieve greatness.
"The team is loaded with outstanding players up and down the lineup, and I think there will be many more commitments coming from this team soon," Purser-Eber said.