Behind the Scenes, Custodians Keep NHS in Top Shape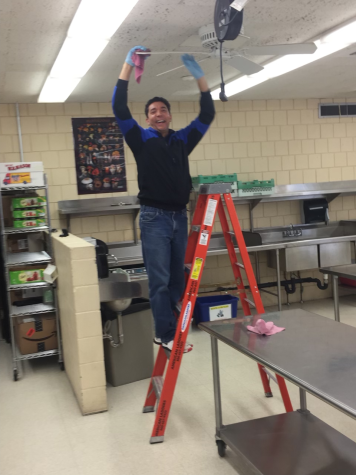 WOODBURY — As school closes out for the day, students are out of the school doors and loaded onto buses. But what about our custodians? They stay after school, at least until the night shift ends.
Nonnewaug's head custodian, Brian Boccio, is a daytime custodian. With 17 years of custodial experience behind him, Boccio began his job here at Nonnewaug in 2017. This was during the time where renovations were taking place.
"I needed a change from my old job." Boccio said. "They were hiring here and they ended up hiring me, and I've worked here ever since."
After being hired at Nonnewaug, he looks back on memories he's experienced.
"It's been an adventure ever since I became head custodian in 2019," Boccio said. "There's definitely been things here that have gone on during the renovations that have definitely been challenging, and for the most part we've worked through it. All in all, it's been good."
Boccio said one of the best parts of the job is working alongside the people at Nonnewaug.
"The kids are awesome, the teachers, the staff, are awesome, and it's just a pleasure to work here," said Boccio, spends his much of his time away from Nonnewaug with his kids, ages 8 and 2.
Clayton Hilpertshauser is another daytime custodian at Nonnewaug. He said he enjoys working with Boccio.
"I can say that he's a very good boss. He's younger than me, he's got a lot of great ideas, and he's got a lot of experience in custodial work, so I respect his word," Hilperthauser says about Boccio. "And really, he's just a great boss to work for."
Hilpertshauser has been at Nonnewaug since the middle of 2019, but this isn't his first go-around as a custodian.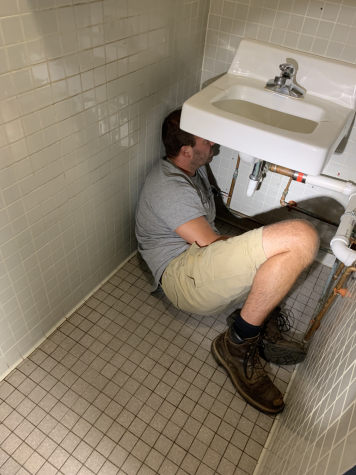 "I was a custodian way back in the day, 25 years ago," Hilpertshauser said. "I liked it then, but I decided to get into construction because it was better for my family. Now I'm back here because my kids are all grown up, and it just makes me feel good to see everybody happy and getting through COVID." 
Hilpertshauser started out as a nighttime custodian in the agriscience building. In September, he moved to the main building on the day shift.
"I do miss everybody over there, but those are the good memories," Hilpertshauser said of his time around the ag building.
Ryan Campanario, a wellness teacher, said he appreciates the hard-working custodians.
"They're great. The school wouldn't run without them," Campanario said. "They do a lot of behind-the-scenes work that I don't think you guys hear about."
Students may overlook the work that custodians do for the school.
"At times, it's sort of a thankless job," Campanario said. "Stuff gets done, whether it's outside on the fields getting prepared for games or whether it's inside, or whatever it is that needs to get done."
The diligent Nonnewaug custodial team has put in their effort to keep Nonnewaug clean and safe, and there are students who don't know their names. Taking time to thank those who do behind-the-scenes work might make all the difference.