Tie-Dyed Hodges Keeps Busy Outside of School
WOODBURY — Melissa Hodges is known around Nonnewaug as a science teacher; specifically, she's one of the chemistry teachers, often seen wearing her tie-dyed lab coat and chemistry-related apparel. 
Hodges wasn't always interested in becoming a chemistry teacher. She started off college as a music theater major, but soon after made the switch.
"In all honesty I have no idea what happened my freshman year of college where I decided to stop being a music theatre major and decided to teach chemistry instead," she says.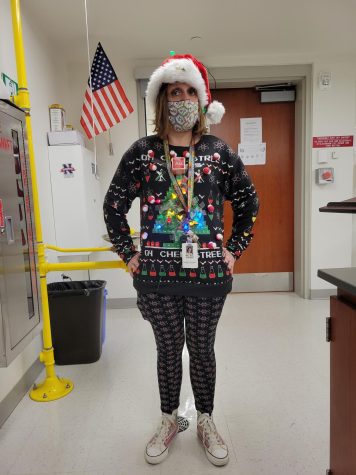 Out of the various topics in the science of chemistry, Hodges enjoyed learning analytical chemistry during her college years. In her words, analytical chemistry is "where you try to figure out what's in stuff." She's found the topic interesting, but understands it can be a difficult topic for students to understand. 
"I think if I ever stopped teaching, I'll probably end up as an analytical chemist of some sort," Hodges says.
Hodges is also a mother of two and outside of school finds herself "[chasing her] children around most of the time." She also enjoys other activities outside of school such as working out and hiking.
"I like hiking when it's warm outside, especially in Sandy Hook there's all sorts of beautiful wooded trails and in Southbury right next door so I go as much as I can; I like to get outside and go hiking," she explains.
Gardening is another one of her hobbies. She then uses the produce she grows for cooking, another thing that she enjoys doing. 
"My daughter tells me that I'm a really good cook," Hodges says. "My daughter's favorite right now is kale sausage soup."
Along with the kale sausage soup, Hodges explains that she also cooks an assortment of other things, including salsa and kale basil pesto. She's even known by her colleagues as a good cook. Nick Sheikh, a fellow member of the NHS science department noted, "she brings in good food sometimes."
As one of the STEM (science, technology, engineering, math) teachers at Nonnewaug, Hodges encourages students to get help when they need it. She understands that STEM classes can be difficult for students.
"For most kids, STEM is challenging because you have to be able to problem solve and think analytically," she explains.
Despite the difficulty, Hodges is able to make her classes enjoyable with her enthusiasm. Sheikh says that Hodges brings "energy and excitement" to the science department.
She advises that students who wish to go on to pursue a career in a STEM field, "get as much practice now, here in high school, while you can, while it's free, to see if you actually like it, to see if you're actually good at it."