Annual Red-Out: Bringing Spirit to Nonnewaug for a Cause
WOODBURY — Nonnewaug came together for the 2022 red-out, raising money for the Leukemia and Lymphoma Society (LLS). Each day of the week from Feb. 7-11, students participated in various activities and spirit days and donated to the LLS.
The red-out spirit week consisted of many fun-filled days. On Monday, Nonnewaug kicked off with "Anything But a Backpack Day." Tuesday was "Decades Day" and Wednesday was "Color Wars." Thursday was "Beach Day" and finally Friday was the red-out, where students participated in a school-wide scavenger hunt, attended a basketball game and, of course, dressed in red.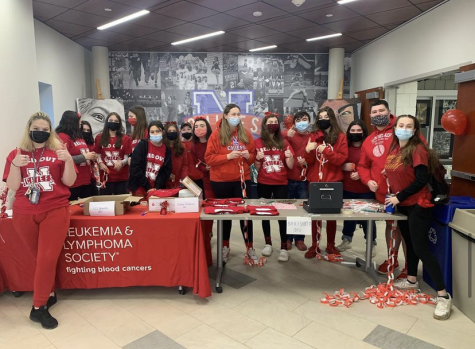 Throughout the week, tables were set up in the main lobby where donations were collected for the LLS. 
In total, the Chiefs raised over $4,000 for the Leukemia and Lymphoma Society.
"It was good — the school collected more money than years prior, which greatly benefited the cause. I was also surprised to see so many freshmen participate. It shows the event will have a good outcome in following years," said Hannah Kostka, the 2021 LLS Student of the Year candidate and senior at Nonnewaug. 
"The event was embraced well by the school," science teacher Toby Denman said. "I saw an overwhelming majority of people in red."