Hard-Working Lewis Nonnewaug's New Assistant Principal
WOODBURY — As students began their 2022-23 school year, many noticed several changes around Nonnewaug: the new posters hung in the hallways, the new hybrid schedule, and even a new administrator: Nicole Lewis. 
Replacing Taryn Fernandez after she became Region 14's director of teaching and learning, Lewis is the latest addition to our school's administration. This affects more than students may think, as her views on important topics are crucial in the decision-making process of our administrators. 
Declan Curtin, dean of students at Nonnewaug, said he's been most impressed with his new colleague's work ethic.
"Mrs. Lewis is a busy bee worker," Curtin explained. "She does not need an audience and she definitely doesn't need to be the loudest person in the room. However, she is one of the hardest workers in the room. She adds work ethic, energy, and a personality, and she also loves solving problems."
Curtin said Lewis helped make a number of decisions over the summer to help solve problems from last year.
"There has been a significant amount of time [discussing] Covid protocols and coming out of Covid protocols," Curtin said. "We also talked about the bus situation and parent drop off … and we wanted to improve the [number] of kids in the hallway, so we initiated the e-hallpass to do that."
Lewis brings vast and varied experience to Nonnewaug.
"I started teaching eighth-grade social studies and English, and after about five or six years of teaching middle school, I [transitioned] to high school library media specialist at Watertown High School for almost the past 13 years," Lewis said.
Lewis may have even been a caregiver to some Chiefs when they were younger.
"I also worked for a number of years at a daycare, KinderCare in Oxford, so actually some of the current students here I had when they were babies," she said.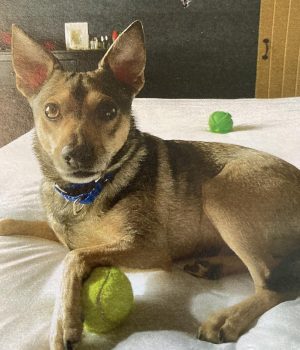 But what does she like to do during her free time? For starters, Lewis is an avid gardener.
"I always like to go to my backyard and see what I can get to grow, and if there's a plant at a nursery that looks half-dead, I like to challenge myself and see if I can keep it alive," says Lewis.
Aside from gardening, she also enjoys spending her time outdoors.
"I enjoy exercising, particularly yoga," Lewis said. "I ride my bike, especially during Covid, and I have a dog named Pete, whom I love and walk with." 
A hard worker with a vibrant personality and passion for what she does: What more could a school want? 
"We interviewed several folks, and it was very competitive," Curtin said. "[Lewis] is a problem solver. She is a thinker. She is creative … and at the end of the day, we were very happy with the choice that we made."