Chiefs Rack Up Wins; Coaches Rack Up Awards
WOODBURY — Following last year's spring sports season and the Berkshire League banquet, where Nonnewaug received the Ted Alex Award, the Chiefs are locally known as having the highest win percentage among league members. With this imposing winning percentage comes milestones for fall sports coaches. 
Marty Malaspina, girls volleyball head coach, has been coaching for nine years. His win against Pomperaug on Sept. 8 marked Malaspina's 100th career win. 
"For our team, making sure that the girls play with confidence within themselves and others and staying positive is how we can make our best efforts," said Malaspina. "Having a team full of athletes open to feedback makes it easier to communicate, and eventually win." 
While this current team is racking up wins, Malaspina's 2017, 2018, and 2019 squads were significant contributors to this 2022 milestone in that they each secured league titles. Their great seasons made Malaspina's career record skyrocket. 
Following Malaspina's volleyball accomplishments, girls soccer head coach, Nick Sheikh, who's coached for 15 years, just achieved his 200th win against Northwestern on Sept. 27. In addition to the girls soccer accomplishments, Sheikh also achieved his 200th win in boys tennis last spring. 
"Competing in practice is big throughout the team to help us achieve the goal we need to succeed," Sheikh said. "When we know that some of the best competition is within us, we tend to play our best and have more confidence throughout the games."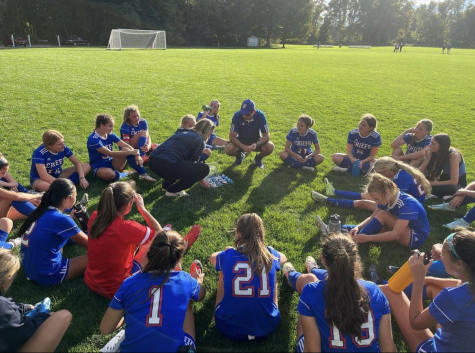 Toby Denman, boys soccer head coach who's been with the program for 21 seasons, achieved his 200th victory as a head coach last fall to achieve yet another milestone. Like Shiekh, Denman's team focuses on using the talent from within the team to make each other better.
"We stress competing everyday at practice, so a lot of the things we do involve one team winning and one team losing, [which] helps instill a level of competitiveness," Denman said. 
Denman attributes a lot of these wins to the state champions of 2002, which returned to campus on Oct. 14 for a tribute to their historic season. Although this team achieved great things, Denman says all the teams he has coached have had plenty of talent to make each team a dream team. 
Like the other fall coaches this season, each coach is grateful for the opportunity to have such talented players on their team, and are looking forward to more championship titles as well as in-season wins.