FFA Convention Teams to Celebrate Homecoming in Their Own Way
WOODBURY — With high school sports, after-school clubs, and agricultural competitions, events at Nonnewaug overlap constantly, but Woodbury FFA students this year will be celebrating homecoming in a unique way. 
Nonnewaug's annual homecoming dance will take place Oct. 28, with the homecoming football game the day before. The composition of this year's annual dance will look a bit different, as about 38 students and five agriscience teachers will be taking part in the National FFA Convention in Indianapolis that same week – that means they'll miss the dance.
"I feel that even though it is upsetting to be missing my senior homecoming, I know that I will still be having just as much fun at nationals, just in a different way," said Anna Shupenis, Woodbury FFA chapter president. "Although it won't be the same as homecoming, we do go to a rodeo on the last day of nationals, which we will hopefully have a lot of fun at."
While in Indianapolis, the group will compete in a variety of competitions ranging from meat judging, livestock evaluation, floriculture knowledge, and creed speaking. The other part of the group will be attending leadership workshops and seminars to help provide a better experience for the FFA chapter.
As expected, many students attending nationals may be upset about missing the dance. 
"It's really disappointing that the school planned so much during that week," said Chloe Walsh, a sophomore who will compete in FFA creed speaking. "It isn't just homecoming that we have to miss; there are also trips and events that could have been planned on separate weeks. However, homecoming is definitely the most disappointing to miss."
Other events students will miss include the Hamilton field trip to New York, the fall pep rally, and games for every Nonnewaug fall sports team.
Tricia Brown, the faculty advisor for the Student Events Planning Committee who plans homecoming, partners with Declan Curtin, Nonnewaug's athletic director and dean of students, to plan different details about the homecoming dance.
"I asked Mr. Curtin, 'When do I have homecoming?'" Brown said. "It's based on the sports schedule, because that's what homecoming is – it's a big football game. They tell me what I need to do, and then I find a facility that fits enough students."
Scheduling isn't an easy thing to do, especially around the busy fall season. Curtin met with the group of students attending nationals to explain how and why these events overlapped.
"We do book [game] dates 14 months in advance," Curtin said to those students. "The athletic schedule isn't booked by us; it's booked by the league. We knew a while ago that this was a conflict [with FFA nationals], but I thought I would come speak to you because I know the frustration I'd have if I was in your shoes."
As a result of a chaotic October calendar, the two events, the FFA National Convention and homecoming overlapped.
"A couple of students asked if they could change it, but we had to tell them we couldn't due to limitations," Brown said. "But every student was very respectful."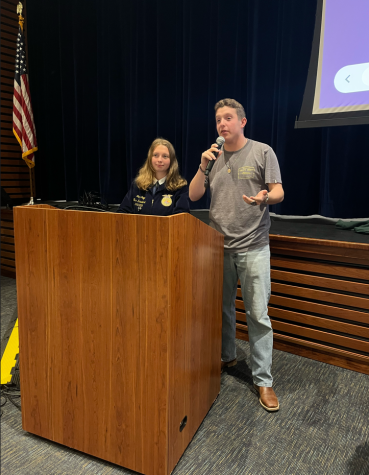 "I know that the date for homecoming was set before the end of the school year last year," Shupenis said. "So I understand how the dates could have been easily overlapped." 
The National FFA posts the dates for national convention a couple of years in advance, too. Its website's calendar currently lists future convention dates through 2024.
With a school that offers so many academic and extracurricular offerings, Curtin acknowledged that it's difficult to create schedules that accommodate everything.
"[There are many] quality experiences all our kids get to choose from, and that's one heck of a thing," Curtin said. "It's what we want in a school."
With the homecoming frustration being in the minds of the students, many have adopted a positive look on the situation. Jamie Paige, the Woodbury FFA vice president who's competing for the National Chapter Award, found a positive twist on the predicament. 
"Mrs. Brown actually talked to me," Paige recalled, "and said, 'You're most likely going to have more fun on a week away than you are at one dance.'"