Home of the Brave: The Importance of Veterans
WOODBURY — "Give me liberty, or give me death!"
Patrick Henry declared this during a speech given at a time when freedom was not a promise, something most people living in the U.S. have never had to undergo. The lives we live today, and the liberties that come with them, are directly due to the actions taken by the heroes of our country: veterans.
"Our lifestyle today is because of what the veteran did," veteran Daniel Gombos said. "They did it because they love their country, and they served well, so this is the result of what happened."
The veterans of our country have bravely served since the very beginning, and continue to serve America and everything it stands for to this day. In 1954, President Dwight. D. Eisenhower signed the bill declaring Nov. 11 as Veterans Day, giving people all over the U.S. a chance to honor veterans.
"I think that we need to realize that soldiers serve our country every day of the year, every hour, every minute," Nonnewaug principal Pamela Sordi said. "It's not just in times of war that they serve to protect our safety and security, and I think we forget that."
Many people might not understand the reason behind veterans choosing to risk their lives for their country, but on Veterans Day most educational facilities cover the importance and history of that decision.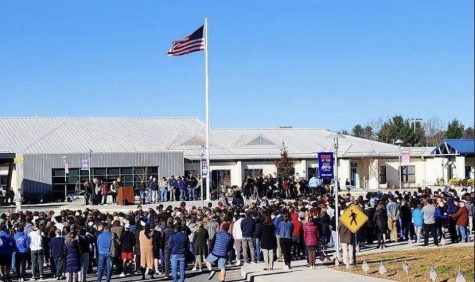 "I think, at least for me, it gives you a good perspective," veteran Mike Yakavonis said. "We've seen the other side and we've seen what we don't want it to be here and that's the reason a lot of us go into the military: to protect this way of life."
With the vast importance of veterans, and the ever-growing value of honoring them, most school districts wonder how they should let students and staff do exactly that. 
"It's interesting; this district has both gone to school on Veterans Day and had the day off. There is always a discussion at Board of Ed meetings," Sordi said. "The one year we had it in school was when we started our [Veterans Day] ceremony because the day that we were in school on Veterans Day we wanted to acknowledge it. Even though we are off now, we continue our Veterans Day ceremony because we should be given to honoring veterans."
Even though Nonnewaug, as well as the rest of the Region 14, has no school on Veterans Day, we should use the day as a reminder of what veterans have done for us all.
"We have our free lifestyle," Gombos said. "Best country in the world, freest country in the world, and the veteran is why we have this — our lifestyle that we have now, all of us, including myself."
Read more about the veterans in Nonnewaug's community by clicking here.