Nonnewaug Girls Soccer Makes History Once Again
WOODBURY — The Nonnewaug girls soccer team clinched both the Berkshire League title and the top spot in the Class L state tournament.
The Chiefs finished 15-1 after a 2-1 loss to Housatonic in the regular-season finale Oct. 31. In that game, they squandered a 1-0 lead by giving up two second-half goals. Still, Nonnewaug held the No. 1 seed in Class L over No. 2 St. Joseph.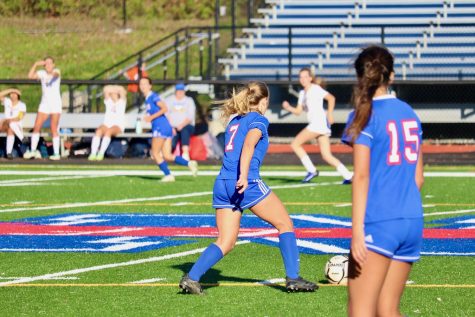 "I think that it is extremely important that we are ranked first," said senior captain Carley Shook, "considering our team has been moved up to Class L." 
Last year, the girls were ranked first in Class M, making this the second time in program history that the Chiefs will be the top-seeded team in the state tournament. With 28 teams qualifying this year in Class L, Nonnewaug will receive a first-round bye and host a second-round game Nov. 10.
"It is huge to be seeded highly and draw low-ranked early-round opponents," said head coach Nick Sheikh. "Although with seeds being record-based, it really is luck of the draw." 
Before states, the girls will look to end their BL season strong, hosting their first game of the postseason on their home turf Nov. 2 in a rematch against Housatonic in the semifinals of the first-ever BL tournament.
They intend to take the momentum they gain from the BL tournament into the state tournament.
"We've discussed the fact that seeds are merely record-based and that regardless of who we play, we will have to focus on the product we put out on the field," said Sheikh. "We need to play our game and work from start to finish."