The Life and Times of Pearl the Alpaca
WOODBURY — Fluffy, tall, yet slightly aggressive, Pearl the Alpaca has lived on to the golden years of her life.
Residing in the large animal lab, Pearl is one of the most prominent animals at Nonnewaug, even at the age of 23.
The early life of this elderly alpaca is shrouded in mystery, yet what was known is regarded as tragic. 
According to Kathleen Gorman, the agricultural production teacher, Pearl was rescued from a private home due to an animal abuse case and was housed at another agriscience program in Connecticut until Nonnewaug was able to adopt her in 2019.
These past experiences have created trauma, scarring Pearl's attitude towards people.
"Pearl is the most temperamental animal when you walk around her," said Ryan Wicklund, a senior in agricultural production. "She warns that she will spit, and if you get too close she will kick." 
Even when respecting Pearl's space, the handling of this kickboxing champion is a feat to be considered.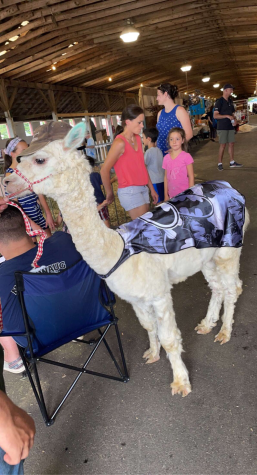 "You have to stay calm and not back down," said Alyssa Hodges, another senior in agricultural production. "She smells fear."
Believe it or not, Pearl has the ability to come out of her shell and demonstrate a disposition worthy of being crowned a champion. 
On Aug. 7, 2021, Pearl attended the Litchfield County 4H Fair and won first place in her class — even if she was the only alpaca attending.
More than a year later, the famous alpaca has been retired to the large animal lab and will be taken care of and watched over there. 
This decision has been made due to Pearl's age. Alpacas often only live to about 20 years of age, yet this fluffy antique has muscled out a few more years and hopefully many more to come.
According to Wicklund, one of Pearl's caretakers on campus, Pearl's grain is mixed with extra zinc, while added attention is spent on her enclosure and overall well-being. Her nails are trimmed to a proper length and her wool kept to the correct thickness for temperature control.
Despite the added comforts given to Pearl, she can still be temperamental, making it sometimes challenging for students working with her.
"Students that are less experienced with livestock tend to have a harder time working with her," said Gorman. "As a teacher and the livestock manager, I constantly have to make calls on whether I should leave her be, or challenge students to improve their handling skills."
With Pearl approaching her 24th year, she'll continue to receive added attention from students and faculty to keep this campus celebrity alive.