Nonnewaug Tennis Teams Plan to Contend for BL Titles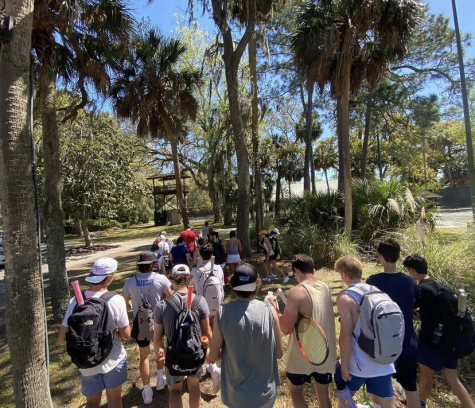 WOODBURY — Right outside the agriscience building is the sound of tennis rallies, with both the boys and girls tennis teams practicing for another strong season in the books. 
Coming off a Berkshire League championship title last season (shared with Litchfield), the girls team is confident for a third year to have the title tucked under their belts. While sharing this title with Litchfield for two years in a row, the past nine years have been extremely competitive among Nonnewaug, Litchfield and Shepaug.
Last season, the girls finished with a 13-1 record in the league, and 15-4 overall. 
The boys also had a strong season, going 9-3 for the league and placing second in the Berkshire League. As with the girls team, Shepaug and Litchfield are the Chiefs' biggest competitors, and the boys are excited for the potential to place first this year. 
"We should vie for a league title this year," said boys tennis coach Nick Sheikh. "That's assuming everyone is healthy."
"We have a very competitive and athletic junior class," girls coach Chris York said. "They will definitely help in the road to the BL title."
While returning players are looking strong, both teams graduated some key players that added points to their rosters. 
"We lost our best doubles team, Marley Baker and Sofia Pagnamenta, who won BL titles two years in a row, due to graduation," said York. "They were 28-0. That will definitely be a hole to fill."
"We graduated Jeff Stein last year," Sheikh added. "He was a very strong player. But I think the whole varsity lineup is advancing in their abilities."
To round out the singles players, the girls have three returners: Emma Primini, Mallory Tomkalski, and Skylar Chung. The boys have Luke Cenatiempo, Jackson Brent, Luke Primini, and Andrew Greene. 
The doubles teams still have some questions about how they will be split up. So far, some thoughts on the boys side have been Ben Shea, Kyle Viveros, Christian Swanson, Zach Hellwinkle, Trey Medonis, and either Greene or Luke Primini. The girls have Charlotte D'Alexander, Sam Duncan, and Lux Calo as possible doubles candidates. 
These players just came back from a trip to Hilton Head, South Carolina. Their day consisted of a study hall in the morning, then a tennis session, lunch break, second tennis session, and two hours of free time before returning to their condos. 
"This year was my first year being able to go on the Hilton Head trip," said junior doubles player Madison Willis. "It was so nice to be able to get away from the cold and be at the beach, while playing tennis." 
Both the boys and girls, coming off of this vacation full of training, are excited for the upcoming season and hopeful for the BL title.