Bye Bye, Chromebooks: Seniors Ready to Leave Tech Companions Behind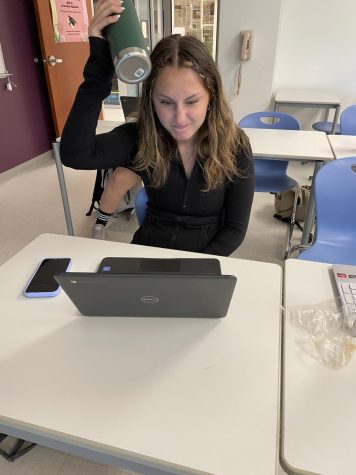 WOODBURY — What's grey, slow, usually broken, and gives Nonnewaug students a headache?
"The Chromebook 3000 Series is rigorously tested to endure the school day and beyond. Students can learn uninterrupted with tamper- and spill-resistant keyboards and long battery life," stated the Dell Chromebook 3100 Education webpage.
Although the website for the device boasts about powerful processing performance, long battery life, and durability, students still struggle to find the effectiveness of their devices from everyday use in their classes. 
"I always use the school-issued Chromebook," said Bella Scala, a Nonnewaug freshman. "I find it difficult to do my schoolwork on [my Chromebook] because it's harder to catch your mistakes when you're writing due to the glitchiness of it and misclicking on the assignment page due to lag of the [trackpad] is annoying."
Students sing the same song, just in different tones. 
"[The Chromebooks] are tolerable," said Madi Dannenhoffer, a Nonnewaug senior. "It gets basic tasks done but it's a little slow. It doesn't connect to WiFi very well and it's constantly failing me but it's nice sometimes."
With Chromebook sales reaching 51% of the total K-12 market, according to USA Today, it is clear that there is no escape from the devices, no matter how much students despise them.
"I've gotten extremely mad at [my Chromebook]. I've punched it a couple of times and thrown my backpack across the room knowing it was in it," said Danni Syrotiak, a Nonnewaug senior. 
While completing her classwork assignments, teacher Kyle Brennan asked senior Sam Conti why her Chromebook was the way it was. She replied: "It's broken and it sucks."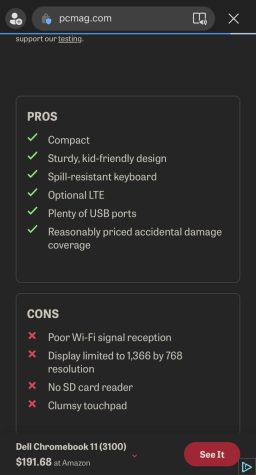 Despite the negative connotation surrounding Chromebooks, there are some positives that make them seem worthwhile. 
"For some kids who don't have computers of their own, they are a good thing. When you look at a digital divide among students with no tech, the Chromebooks are beneficial," said Nick Sheikh, a Nonnewaug science teacher. 
"They are more eco-friendly than using tons of paper for every assignment," added Scala.
According to Ctl.com, schools use an average of 74 trees' worth a paper a year. 
"It is a tolerable and affordable system for schools," said Dannenhoffer.
The average Chromebook costs $200-300 for a school, which is far below the average costs for iPads or other high-end devices.
"I will absolutely not miss it in college," Dannenhoffer added.
Despite the good and the bad with the devices, memories around these devices are cherished by those working around them.
"I get to know kids I normally don't get to see or meet when they come in to get their Chromebook repaired or replaced," said Deborah Flaherty, the Nonnewaug library media specialist. "I see a lot of cracked screens in the LMC and enjoy hearing the stories around the cracks," said Flaherty. "The last cracked screen to come in told me a story about how their dog jumped on their Chromebook. It's fun hearing what happened." 
No matter what Nonnewaug students say about their Chromebooks, seniors like Dannenhoffer, Syrotiak, and Conti will not be missing their Chromebooks as they move on to the next chapter of their lives. 
"Good luck seniors, I hope you have a better computer," said Sheikh.