WATERBURY — In the 1950s, John Baptist Greco, a Waterbury-born lawyer, had an idea: a religious theme park with miniature versions of important biblical scenes, inspired by nativity scenes and statues displayed by his fellow Italian Americans. 
Greco bought a 17-acre plot of land and got to work. By 1956 he had a 32-foot cross, dubbed the Peace Cross, up and dedicated. He also began to build the attractions and bible scenes up. At some point the original 32-foot cross was replaced with a 56-foot steel cross.
According to the World Religions and Spirituality Project, Greco used a mixture of old bathtubs, cinder blocks, scrap metal, clay, bricks and cement to create all of the little buildings and biblical scenes that dot the hillside. The work paid off and Holy Land, called Bethlehem Village at the time, was able to open on Dec. 11, 1958.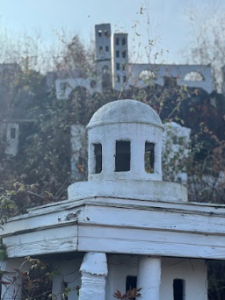 For a while, between the 1960s and 1970s, Holy Land was actually doing fairly well. On average they would get about 40,000 visitors a year. Unfortunately, by the early '80s this number began to drop. 
John Greco found himself aging and unable to maintain Holy Land himself so he left that job to The Religious Sisters Fillpini. In 1984, Greco closed the park with the intention to expand and improve upon it. However,  he was not able to do so, passing away in 1986. The land was left to the Fillpini sisters.
The site was left abandoned and slowly grew to reflect that. Plants grew wild and vandalism began to rapidly appear. However, there was still interest lingering behind. In 2002, the Waterbury Region Convention and Visitors Bureau got over 150 calls all asking for directions to Holy Land, Holy Land also got covered on the Roadside America website which told readers to make sure they had an up to date tetanus shot. (Not exactly what you want to hear, but hey, attention is attention). 
Within Waterbury and Connecticut in general there was much debate over what should be done to preserve Holy Land, Some believed that it should be preserved as folk art, while others made attempts to restore it like the attempt by the Knights of Columbus in 2000. Meanwhile, fingers were also being pointed at the Fillpini sisters, as many believed their deterring of volunteers and organizations was due to the fear of being liable or being sued. 
In the years since it's closing there have been many attempts to restore along with small restoration projects. In 1997, the Boy Scouts repaired the Holy Land U.S.A sign as a community service project. Just over a decade later,  the 56 foot cross was replaced with a 50 foot cross made of stainless steel that, like its predecessor, was able to be illuminated at night.
On June 20, 2013, Waterbury mayor Neil O'Leary and Fred "Fritz" Blasius, a Waterbury car dealer, bought Holy Land from the Fillpini Sisters for $350,000. Mayor O'Leary had a plan that involved restoring and reviving the site. This plan happened to include  replacing the cross which did end up happening that year, in part due to community outcry. The new cross was 65 feet tall, 26 feet wide and made of steel. Today  the site features a state of the art LED system for illumination matching the Roman Catholic Liturgical Colors. The cross was illuminated for the first time on December 22 of that year.
Further work followed, mainly the clearing and removal of trees and shrubs. There was apparently plans to restore some small areas of the property although it seems that they may not have been fully carried out. Fortunately though the work that had been done was enough to reopen Holy Land. On Sept. 14, 2014 an inaugural mass was held and Holy Land was opened for the first time in 30 years. Following this it remains open for public use during daylight hours. 
Waterbury residents are especially caring about Holy Land. Nonnewaug School Resource Officer Chris O'Toole, a Waterbury resident, reminisces about his experiences up on the hillside.
"I've been up to Holy Land twice when I was a kid," O'Toole said. "I remember the first time I was very little and it was so windy up there I thought I was going to get blown off the mountain. I remember all the little houses, I thought it was the coolest thing going up there."