An Eclectic Life: Canadian-Born Vint Has Traveled the Globe, Acted with "The Hulk", Rescued Animals
WOODBURY — Nonnewaug's Library Media Specialist Maureen Vint is a Canadian-born world-traveler with a fascinating array of talents and experiences. Before starting her job at NHS, Vint hiked Machu Picchu in Peru, taught in Turkey, took acting classes with the original "Hulk," and drove a dump truck for a roofing company.
Vint grew up on Lake Superior, in a little town in Ontario, Canada, which she described as: "a cold little town with lots of moose and wolves." During the winter, temperatures got down to minus-40 degrees; during the summer, there were 11 days of full sunlight. 
Vint completed her undergraduate education at Carleton University in Ottawa, Canada. She achieved a double major in English with a concentration in theater. Right after college, Vint went to work for the Canadian government, creating training and development for employees. 
After a few years, she went back to school and obtained a teaching certificate. With few teaching positions open in Canada at the time, Vint looked abroad. 
Vint has always been an adventurous person who loves to travel, so when a two-year teaching program opened up in Turkey, Vint jumped at the opportunity. During her time in Turkey, Vint fell in love with Turkish carpets and the fresh seafood right from the Mediterranean. To this day, Vint maintains a collection of Turkish rugs.
"I have more Turkish carpets than I do rooms in my house," she joked.
After Vint's two-year teaching position in Turkey ended, she continued her travels and moved to Bolivia, where she taught fifth grade for two years. There were many aspects of Bolivia that Vint loved.
"I loved the hot weather, the culture, and the fun music," said Vint. 
Living near the rainforest introduced Vint to many new species. One day while in Bolivia, Vint came home to find a tarantula in her living room. A self-described animal and nature lover, Vint, unafraid, gently put the giant spider in a glass jar and moved it outside. 
Tarantulas, however, were not the only species that moved into her Bolivian home. One of her fifth-grade students gave her a dog as a gift. Vint also rescued two cats off the streets of Santa Cruz, Bolivia. 
During her time in Bolivia, Vint, an avid hiker and nature-lover, traveled to Peru and climbed the famed 7,972-foot Machu Picchu. 
From Bolivia, Vint then traveled to Los Angeles, California, with her two rescue cats and her gifted dog, where they resided for 5 years. While in L.A., Vint worked as a reading teacher. 
As a hobby, Vint took acting classes. She got to meet the original "Hulk," actor Lou Ferrigno, who asked Vint to attend acting classes with him. 
After leaving L.A., Vint came to Connecticut where she has resided now for 15 years. Vint and her husband moved to Connecticut to be closer to her husband's family. 
She started off as a reading teacher in East Hartford, where she would work with students and engage them in different reading and writing activities. Quickly, Vint was inspired to become a library media specialist.
"I wanted to become a library media specialist from working in East Hartford," she said. "[I was] always bringing the students to the library and always trying to get them to read something they were interested in. I spent so much time in the library, and I loved being there." 
When a library media specialist position opened in Colchester, Vint jumped on it. She left her job in East Hartford and began in Colchester assisting students in their research and reading needs.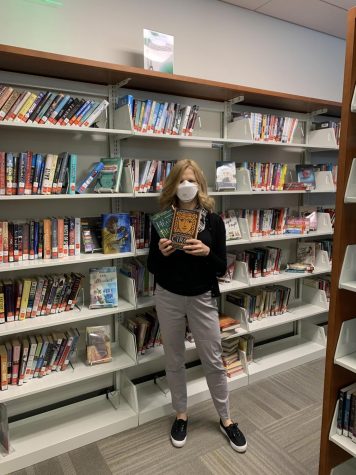 In 2018, Vint joined the NHS tribe as the library media specialist. Coming into a newly renovated library, Vint had her work cut out for her. Over the years, Vint transformed the library into not just an educational environment, but also a place to collaborate and relax. 
"The goal is to create a really comfortable and welcoming environment for a multitude of purposes," said Vint. "It's not just books; students can come and have a quiet study place or a collaborative area or even just play chess."
Students love visiting Vint in the LMC.
"Every time I come into the library, [Mrs. Vint] is always there greeting me or offering assistance with whatever project or book I need. It was always a fun time talking with her," said Charles Rickenbach, NHS junior. 
Along with re-designing the LMC, Vint is tasked with being the liaison between students and IT with Chromebook issues. Vint also assists classes with databases and research, as well as traveling from classroom to classroom with carts full of books. 
"I didn't even know databases existed before she showed us," said Gianna Lodice, a freshman at NHS.
Vint also is the advisor of the book club, giving students even more options to expand their love for reading. 
"I often stay after a lot to help out with books and covering books, and she gives me jelly beans," said Hannah Searles, NHS freshman. "Mrs. Vint has also been really helpful with the databases; before, we didn't know how to use them."
At home Vint doesn't slow her pace; she is either outdoors camping or staying fit by walking and yoga. 
Vint is also involved in animal rescue. At her previous school, Vint worked with a group of teachers and started a dog rescue. They brought 100-plus dogs up from the South and found homes for them. She also has her own pets at home, a dog, Jake, and a rescued cat, Kiki. 
Vint enjoys getting involved and helping out others. She hopes to make the library into a comprehensive student-center, making it a place for various uses for all students to enjoy. Vint's contributions to the NHS community will continue to grow as she continues to improve upon the LMC.