Timber Team Comes in Swinging for Program's Second Season
WOODBURY — The Woodbury FFA's Timber Team kicked off its second season with a competition at Nonnewaug on April 30. The team of about 20 students faced off against Woodland and Wamogo, with both schools having about 30 competitors each. 
Coach Andrew Zielinski, an agriscience faculty member, prepared the team for their first home competition since March, when they started this year's practices.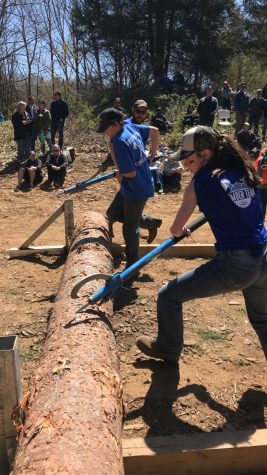 "To prepare for the competition I was going to practice consistently, made sure I was fully caught up in everything that was going on with the team, and made sure to get the coaches' advice on what to do for the events I felt I personally needed to improve on," sophomore Emma Cummings said.
As other members were nervous and worried about what was going to happen, junior Ryan Wicklund, had something else on his mind. 
"As the host, [the team] had to make new targets, get new logs and even build a new saw bunk. This goes back to even before practice started this year with rebuilding the backstop for the axe throwing targets," Wicklund said. "Most of the work was done by Mr. Z and the Timber Team; however, we can't take all the credit. Mr. Z and his mechanics classes have done so much work to help them get ready and me and the rest of the team appreciates it tremendously."
Wicklund is one of the members to take care of all equipment for the rest of the team, so he never fails to point out and give credit where it's due. 
New members were handed a new challenge to start the season. Not only do they have limited time of practice experience, they also have to get used to all the eyes watching them for the first time.  
"There were definitely more people than I was expecting to show up to the competition, especially how big our audience was," said senior member Rachel Gagne, who's new to the team this season. "I knew that there was going to be a lot of pressure surrounding how well we performed."
However, some members were able to handle the pressure a little better than others, like freshmen Abby Risi. 
"I think it was less scary having the competition at our home turf because I was used to the area," Risi said. "I felt like it was a good number of people [that came to the competition], and it didn't make me more nervous nor less nervous."
The season is just starting for the state's high school timber teams, and Wicklund said it best.
"I see the improvements we have had this year shining through the competition," Wicklund said. "The [competition] was perfect for everyone involved and I'm excited to see the next one."
The team also competed May 13 at Woodland and May 20 at Wamogo, and it has more competitions continuing this fall during fair season. The excitement on campus will grow as the team brings home more wins.