̶S̶p̶i̶r̶i̶t̶ ̶C̶l̶u̶b̶?̶ Student Events Planning Committee Makes Comeback
WOODBURY — Who puts the spirit in Nonnewaug? The Chiefs' own spirit — err, event committee?
The Nonnewaug Student Events Planning Committee, formerly known as Spirit Club to students, has been around for years. Over time it has grown into something in which more students have been interested. 
Lots of changes were made in the new year of this club regarding the growth in student activity. Seniors and underclassmen joined for this school year to help plan for the upcoming events. Some events that are most popular include homecoming, pep rallies, and fundraisers such as the red-out for the Leukemia and Lymphoma Society.
Tricia Brown, a mathematics teacher at NHS, is in charge of the club this year.
"We usually meet after school on Mondays [and] Thursdays in B20. Any student is welcome to join," says Brown.
Changing the name was important for the future of the club, Brown says.
"We didn't have to change the name; we chose to," Brown said. "Students didn't know what Spirit Club meant and it was not well attended. Now the name is obvious."
Making this change was beneficial to the club because the turnout in the first few months was much better than it had been before.
"Approximately 10 students have been attending," says Brown. "We hope more will join."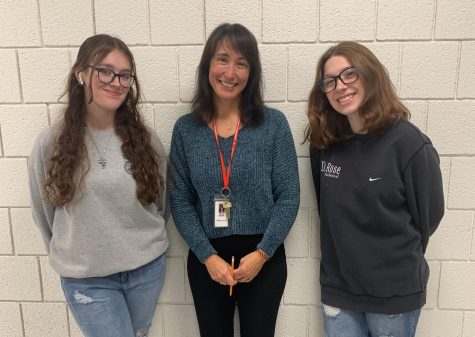 "The club has been doing good this year; we've been busy," says Madison Innes, the club's president.
The Fun Begins
Spirit weeks and pep rallies were put on hold in previous years due to COVID. Now, the Student Events Planning Committee is back in action and ready to rumble.
"On Oct. 27, we are having our first inside pep rally since COVID," Brown said. "We are really looking forward to this day. It will be a Color Wars dress day." 
Both students and staff look forward to these events. Some of these events even include student vs. staff battles in sports like basketball and volleyball. The club is open to other ideas, too.
"I think students should join the club because it gives them opportunities to decide how they want to show school spirit," says Innes.
Some of the events they plan give back to the community.
"We are planning on doing our red-out on Feb. 10 to raise funds for blood cancer. That week we will have another spirit week which will include Anything but a Backpack [Day]," says Brown, who added that another Color Blaze is set for the April pep rally. 
Many students love these events because it gives them a chance to see and connect with their whole class.
The Money Maker 
Budgeting has always been a challenging with school events. What's worth the money and what isn't has always been a topic of discussion. 
Color Blaze has been one of the more popular events students have participated in, but it's also "the most expensive event," according to Brown. "The cost of the T-shirts and the powder is pricey."
The club has made more money than they originally expected on the homecoming tickets, reaching $3,000 on just the first day of selling before later selling out.
"We make money on homecoming. That is our fundraiser that helps us pay for all other events," says Brown.
As the school year continues on, the new Student Events Planning Committee will bring NHS new and fun ideas from the students — not just teachers.