From President to Painter: Willis' Guide to Extracurriculars
WOODBURY — Sharp sketches of pencil and crinkling laughter are typical landscapes for Nonnewaug High School's art room. The artists are spread out among the stools, some in the back working on clay, others in the front with stained fingertips. Leeza Desjardins is seated in her chair, helping students fondly or teaching a skill.
Amidst the art students, some with earphones in or paintbrushes in hand, sits junior Madison Willis at her usual seat. Today, she's working on a pen and ink for St. Teresa's Church. She's just about done with it, only sidetracking slightly when her friend strikes up a conversation. This is the typical place where you'd find Willis, mind far away from reality and instead infatuated with her art.
On a typical day in the life as a student at NHS, you can expect the usual hassle of classes and extracurriculars. For Madison Willis, an overcrowded schedule is her usual routine. Coming from the people around her, she handles it pretty well.
"She's good at managing her time well," said Jess McKay, an English teacher and co-advisor of the Class of 2024. "Between her responsibilities as Class of 2024 president, dance, art, and her schoolwork, she just knows how to manage her time. She breaks her time up into manageable pieces, which makes it easy for her to spread herself. It makes her successful."
Keeping this in mind, you might infer that with so much going on, Willis would get tired of it all. However, she reassures people that balancing her schedule isn't something that limits her enjoyment of school.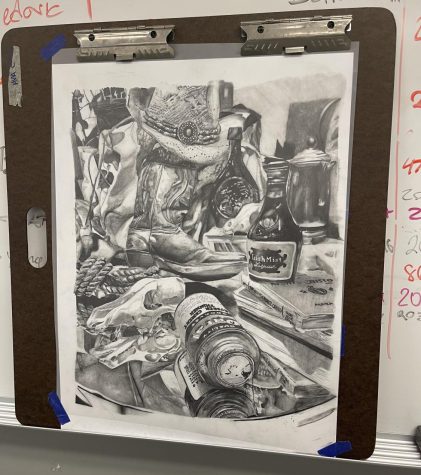 "I like being involved in everything," Willis says. "It makes me feel like I'm helping out. It allows me to be social and communicate with lots of different people in our school."
As students in high school, we all know it's not all about schoolwork. On the contrary, who you are on the outside of your college application is what matters the most. Thankfully, Willis is an even better friend to her peers.
"Madison is an overall great person and has become one of my closest friends," junior Gianna Lodice. "Although we did not get close until last year, I knew who she was and could tell the amazing type of person she was before we were even friends. She is committed to everything she does at school, and that includes her friendships and relationships with peers."
Her relationships with the people around her are something she has to balance with her extracurriculars daily. If there's one thing Willis is good at, though, it's balancing her life schedule. 
"I do my work as soon as possible," she said. "That's really how I balance everything. I don't like to make things a second thought. I get them done right away so I don't have to worry."
One of her extracurriculars in particular that she's used to balancing is art. Art has been a part of Willis' life since elementary school, and her work ethic for the subject is nothing less than exemplary.
"Madison Willis gets things done ahead of time, before the deadline," Desjardins said. "She seems to get things done two to three days in advance before it's due so that she doesn't have to panic. Her work ethic is one to model."
Through her days at Nonnewaug High School, Willis has proved to not only be a leader in her academics but a leader in her personality and character. Her classmates can only wait to see the great things her work ethic will bring to her in the future.