Nonnewaug's Team Beta Brings Bright Minds to the Robotics Arena
WOODBURY — Nonnewaug's Team Beta thrives amidst the chaos of turning gears and lines of code. After a sharp increase in members from the 2021-22 school year to now, the team is on the path to victory once again with a number of new faces attending meetings and robotics events.
William Pease, a science instructor at Nonnewaug, and Region 14 staff member Mark Strumolo are Team Beta's two advisors. They work alongside students to conquer the mistakes and malfunctions that come with each season. 
"It's a great hands-on opportunity," said Pease. "Most of the work revolves around solving problems, working together, and trying to come up with ideas."
In robotics, no project works perfectly the first time.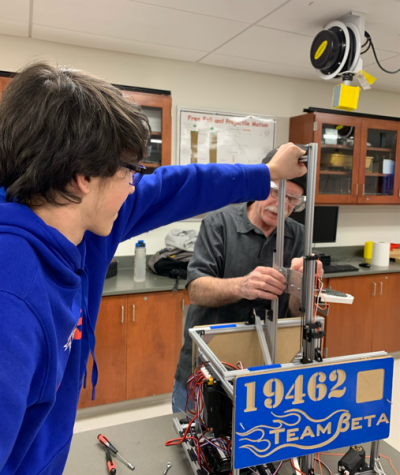 "Pinning down the details is normally one of the hardest parts," Pease said. "We end up taking things apart and putting them back together differently to make them function. For the students, it's a great way to gain confidence in their own abilities."
The work demanded by an in-progress build is more than just physical; Mars Young, a freshman at Nonnewaug, joined for the combination of elements students learn to work with in the club. 
"It's mechanical," she said, "but it also has a lot to do with coding. I thought it would be fun to get involved with something that would let me work with both. Plus, it's been a great way to make friends."
The social aspect is another attribute that greatly benefits students. Outside of the friendly competitions Beta competes in, during which they face other robotics groups in varying contests, gatherings are a great way to branch out and build bonds with students from other teams. 
"Events are chaotic," said returning Nonnewaug senior Leah Quijano, "but the chaos is just part of the fun. It's great to get a look at other teams' robots and see what they've been up to. It's something new every time."
Even after the end of the season, the benefits of Beta extend beyond school — and even into the years after.
"Students pick up plenty of useful skills throughout the year," said Pease. "They find ways to go on outside of robotics and do whatever they want to do. We've had students who do very well and end up with scholarships."
Team Beta was founded in the early 2000s, and continues to grow as the years go by. Along with meeting new people and gaining new skills, the program offers students a chance to work with real-world problem solving scenarios, and prepares them to face challenges and opportunities alike outside of the classroom.