High Hopes for Northwest United Lacrosse Teams in 2023
WOODBURY — Spring sports have officially started up once again, and the new Nonnewaug lacrosse teams are determined to have a successful year coming into a historic season.
Nonnewaug is playing as part of a new co-op called Northwest United, hosted by Litchfield. The boys and girls teams are motivated and determined to win their league. Previously, the Chiefs had club teams, but this changed entering this year as more kids became interested in the opportunity to play on interscholastic squads in the CIAC.
"Our team's goal is to set realistic goals for each game," said senior goalie Zoe Inglis, "such as getting five turnovers on defense or five goals for the first half of the game. Personally, my goal is to use this season as an opportunity for me to grow and prepare for college lacrosse."
Inglis will be playing lacrosse at Division I Merrimack College next spring.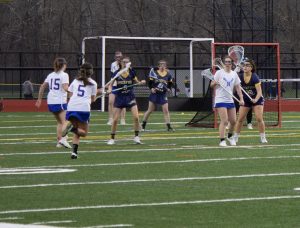 "We're just hoping to have a successful season," said senior goalie Ethan Moshier. "We want to win the league and make a good run in states."
Moshier will play at Division III Johnson & Wales University next year.
"I have prepared for this season by coaching on my own time as well as weight training specifically for lacrosse," said Inglis. "I've also continued to work on my own lacrosse skills throughout the winter season."
The boys team is coached by Judd Baggett, while Caitlyn Barksdale coaches the girls team. Parents previously managed the club squads and scheduled practices and games, which were frequently played against local JV teams including Lewis Mills, Holy Cross, and New Milford.
"Our team and myself have worked very hard over the offseason," said Moshier. "I feel confident that we will continue to have success, and have a fun year."
It's safe to say that the bar has been raised for this year's lacrosse teams. Athletes have high hopes for the year and are confident they will have a fun and successful season. Only time will tell how things ultimately pan out, but it appears that the Northwest United lacrosse programs have a promising future.
"I'm looking forward to helping my team grow into a competitive team in our conference," said Inglis. "I'm taking this year as an opportunity to help out the girls struggling with learning the sport as well as practicing my own skills for college."