Duff's Track Record Includes Dozens of Titles, All-Americans
WOODBURY – For more than 30 years, the Nonnewaug High School's girls cross country and track and field team has been dominating the competition under head coach, Arleigh Duff, a finalist in the NHSACA 2020 National Girls' Cross Country Coach of the Year Awards Program.
Starting his coaching career with cross country, Duff coached both the boys and the girls.
"I first started with cross country in 1992," Duff said. "I originally wanted to coach basketball and I did for a little bit. I was offered the cross country position for girls and boys. It was exciting to me because I knew I would have to learn a lot and I did it quickly. Then in 1996, I took over the girls track team. After I had coached cross country for a couple of years, the track job came open, and it was important for me to coach both outdoor and indoor track so I could be in charge of all of it."
Over the years, Coach Duff has led the cross country team to 12 girls Berkshire League championships, and six BL championships for the boys team. As for girls track and field, he led them to 24 BL titles – 22 of them being consecutive from 1996-2017. Duff also coached the girls track team to three state titles (with seven runner-ups) and the cross country teams to seven state championships (four for girls and three for boys).
No coach at Nonnewaug has brought more championships back to Region 14 than Duff.
During the course of his career, Duff has produced many outstanding athletes. Athletes who are lucky enough to get coached by Duff truly admire his talented coaching skills.
"Arleigh is a super dynamic coach in that he makes each season about the team's collective success," said junior track and field captain Gianna Lodice. "While also making it personal and honing in on our own skills and helping us improve individually."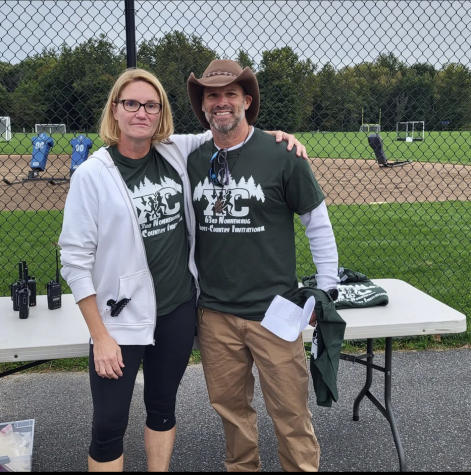 Duff has sent ten kids to nationals, four of them being named All-Americans: Jackie Nicholas, James McKirdy, Michaela Pernell, Mary Bibbey, as well as four athletes on an indoor mile relay team.
"It feels great when a track athlete or cross country runner makes it to nationals," Duff said. "I have coached a lot of athletes to nationals and three All-Americans which is top six in the nation. To see the excitement of an athlete when they make nationals is incredible. I've had a steeplechaser [Nicholas] finish second in the nation, and that is amazing to have the second-best in the United States from Nonnewaug High School."
Duff, who graduated from Nonnewaug in 1989, works in the special education department of Nonnewaug. After work, he heads down to the track to coach for two-plus hours.
Duff sees the potential in all the athletes he has coached. He trains kids who may not know their full potential into amazing athletes, some of which then go on to break records or achieve their highest goal of going to nationals and becoming All-Americans.
"He wants to see us succeed on both ends and he truly cares about the team," Lodice said. "He is also just so knowledgeable about the sport. It's amazing to have a coach who has been doing this for so long and with such success."