WOODBURY — Coaching is never easy, and two coaches on the sideline can sometimes raise tug-of-war challenges. For the Nonnewaug boys soccer team, though, problems rarely occur.
For head coach Toby Denman, the relationship between junior varsity coach Joshua Kornblut and himself helps keep a high engagement rate during practice.
"We get along well," Denman says. "I feel like we share some similar ways of communicating to the team, which helps us to keep a high level of engagement during practice."
Unlike most coaches at Nonnewaug, Kornblut does not teach in the high school; he is an eighth-grade science teacher at Woodbury Middle School. Not being at Nonnewaug sometimes raises problems for Kornblut, especially when it comes to transportation.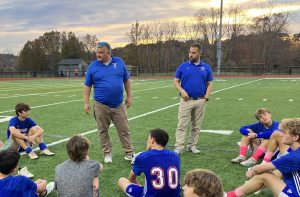 "We do a pretty good job of communicating with each other even though we are at different schools," Kornblut said. "Sometimes I may have to drive separately to a game or I have to rush over to practice."
On game days, Denman runs point in terms of on-field adjustments, while Kornblut manages the sideline.
"Mr. Denman does more of the managing, especially being the head coach," Kornblut said. "He's usually the one to be more vocal when it comes to talking with the team, while I do a lot of managing on the sideline as well as paying close attention during games, calling out what I see and helping him to kind of facilitate and being there to assist him."
By teaching at the middle school and coaching at the high school, Kornblut creates special bonds with his students and players.
"Science class with Mr. K last year was great," freshman Cashlyn Mendonis said, "but he is kind of there [on the sidelines] to be there. Mr. Denman is in charge."
Rest assured that whenever there is a big decision to make, Denman takes the lead — and Kornblut is OK with that.
"I'm in charge," Denman said. "I make the majority of the decisions."