Riggi Lives Art, In and Out of School
WOODBURY — "She is so much more than just a colleague," Nonnewaug art teacher Leeza Desjardins says of Genna Riggi, her fellow art teacher. "She's family." 
Genna Riggi is a digital design teacher and yearbook advisor at Nonnewaug, but she does much more than what she gives herself credit for. Riggi teaches many art courses: Digital Design 1-3, Foundations Art, Photography, and Yearbook. 
Even though a lot of students and even staff don't know all that Riggi does, her work does not go unappreciated.
"Ms. Riggi does a lot of behind-the-scenes work," said Declan Curtin, Nonnewaug's athletic director and dean of students. "There are posters all around the school that she created that mark all the qualities of our students. The visual image is very powerful, and Ms. Riggi has the ability to bring that to our school. There is a lot of work that Ms. Riggi does that people don't recognize in and outside of her classroom." 
Riggi has always had a passion for art. 
"I was a wild child and very stubborn," Riggi said. "I knew what I wanted. I was very creative as a child, always making something. That was my compass. My creativity and self-expression helped me be a balanced person. I was always an artist."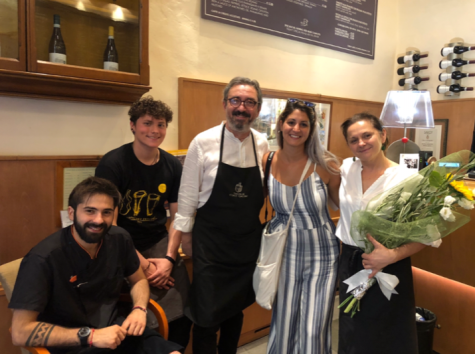 Graduating from the University of Hartford, she also got the opportunity to study abroad in Italy for a year.
"My trip to Italy completely shaped who I am," Riggi said. "To study abroad at such a young age and to study something that I wanted to study was an invaluable experience for me. I returned 10 years later with my parents, and I saw the family that I had lived with during my trip abroad, and we picked up right where we left off. It was like I never left."
Two years ago, Riggi got the chance to be an artist in Montana.
"This experience was [called] Artist in Wilderness," Riggi said. "You had to go into the wild for 10 days, make art, and live off the land. I stayed in a cabin, but it was pretty bare minimum. I would hike 13 miles, cook my own food, and make my own art. I was able to just be one with nature. Through this experience, I really got to know myself in a different way." 
Alongside Riggi, there is always Desjardins — the so-called partners in crime. 
"I admire her professionalism and her friendship," Desjardins said. "I think we are a big happy family even though it's just us two. If one of us is slacking, the other one picks the other up. We always have each other's back. We work as a team, a family. Our space is like our home. She is one of my best friends. She is intelligent and dependable. She will always go the extra mile for you."
It's a common theme that the digital design teacher does not give herself enough credit for her work. 
"Ms. Riggi does not give herself enough credit for all the work that she does, how she connects with her students, the way she teaches, and how she comes across to the kids," Desjardins said. "Also, all the work she does for the school, her knowledge, and expertise are amazing. She doesn't give herself enough credit for all of her accomplishments."  
Outside of school, Riggi lives art. She owns her own art therapy company, ArtLighten. She helps individuals overcome their struggles through the expression of art.