New Year Brings New Faces to Nonnewaug
WOODBURY — It's always thrilling to see new faces around Nonnewaug, whether they're students or staff. The start of the 2022-23 school year has introduced us to several new faculty members.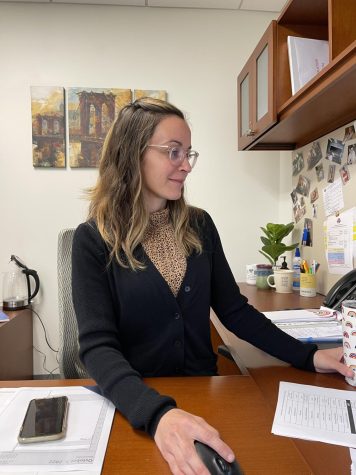 Nicole Lewis, assistant principal 
Nicole Lewis is the school's new assistant principal, replacing Taryn Fernandez, who moved up to become the district's director of teaching and learning.
"I chose Nonnewaug because I have lived in nearby communities my entire life and I am familiar with the Woodbury/Bethlehem community," said Nicole Lewis, the new assistant principal at Nonnewaug. "I am also impressed with the extensive offerings and opportunities that this school makes available to all students. The school is recognized on the state and national level for many of its programs."
Lewis brings plenty of experience to the school.
"Prior to Nonnewaug, I spent almost the past 13 years working at Watertown High School, where I was the library media specialist and taught AP Seminar," Lewis explained. "Before that, I taught middle school English and social studies."  
Gail DeFrancesco, guidance counselor
The Nonnewaug counseling department welcomed a new face following the transition of Andie Rocco to Woodbury Middle School. Her departure meant the arrival of Gail DeFrancesco, who inherited Rocco's counseling caseload. 
"I chose Nonnewaug because the reputation of the school is incredible," DeFrancesco said. "It has a fantastic ag program, which is very unique at a high school. There are so many opportunities to become involved and enriched here at the high school. I feel that this school truly wants each and every student to succeed both academically and socially. Being one of the new staff members, I have felt nothing short of being truly welcomed."
This is DeFrancesco's first full-time counseling position.
"Before accepting my current position here at Nonnewaug, I had just finished my internship through the Watertown School District and then completed a long-term substitute school counselor position at Memorial Middle School in Middlebury," DeFrancesco added. 
Deborah Flaherty, library media specialist
The Nonnewaug Library Media Center has a replacement for Maureen Vint, NHS' former LMC specialist who left for Darien Public Schools. Deb Flaherty began work at Nonnewaug last month.
"I was familiar with Nonnewaug, as this is my third year coaching cross country and track and field here," Flaherty said. "I was in my previous district for 20 years and really had no intention of leaving. However, when the opportunity of the library media specialist arose and I was given the details of the job here, I had to uproot and make the change. Nonnewaug understands the position of a library media specialist and has provided the support needed to make my role successful."
Not only is Flaherty familiar with some Nonnewaug students already, but she has a variety of experience.
"Prior to coming to Nonnewaug, I was the library media specialist at Long River Middle School in Region 16, which serves Prospect and Beacon Falls," Flaherty added. "I worked in the LMC for eight years there. Prior to the middle school in Region 16, I was a social studies teacher at Woodland [Regional High School]. I am happy to be back working with the high school student population."
Jessica Arnold, literacy specialist
Jessica Arnold, NHS' new literacy specialist, has joined the campus' support services team. Arnold previously worked as a literacy interventionist at a Middletown elementary school before joining NHS.
"I chose Nonnewaug because of the sense of community here. The students and staff are all very welcoming and encouraging of one another. The school brings together students from surrounding towns into one community," Arnold explained. "I enjoy teaching and learning from many different individuals. I have already learned from students I've worked with about 4H fairs [and] the agriscience and technology programs offered."
Chad Williams, American Sign Language teacher
This year, NHS welcomed Chad Williams as the new ASL teacher in replacement of Kathleen Favoccia, who has left her position as a faculty member at NHS to explore other possibilities.
"I chose Nonnewaug High School because I felt this was a good fit for me. When I came for my interview, the administrators made it a very comfortable feeling for me," says Williams. "I worked at the American School for the Deaf for over 10 years. I started as an accountant, then worked as a paraprofessional. While I was working as a para, I attended college to get my master's [degree] in deaf education. I also worked at Naugatuck Valley Community College and Manchester Community College teaching American Sign Language."