Experiment '23: Seniors Withstand Constant Changes at Nonnewaug
WOODBURY — COVID, remote learning, masked learning, multiple schedule changes, and credit changes – the Class of 2023 has seen it all. 
As the second semester approaches, seniors begin to reflect on their past four years at Nonnewaug. Throughout the years there have been many challenges for the Class of 2023 as they progressed through high school. 
"Our class has become the school's guinea pig, and I've had to learn how to adapt to anything the region throws at us and go with it," said Jacob Wells, a Nonnewaug senior.
Credit Changes
As freshmen, the Class of 2023 set the new standard for graduation requirements at Nonnewaug. Previously, Nonnewaug required 23 credits, a number which was above the state standard of 21 at the time.  
"The credit increase and change in graduation requirements came from the state," said Nonnewaug principal Pam Sordi. "Now, students needed 25 credits to graduate, and [the Class of 2023 was] the first class with the new standards."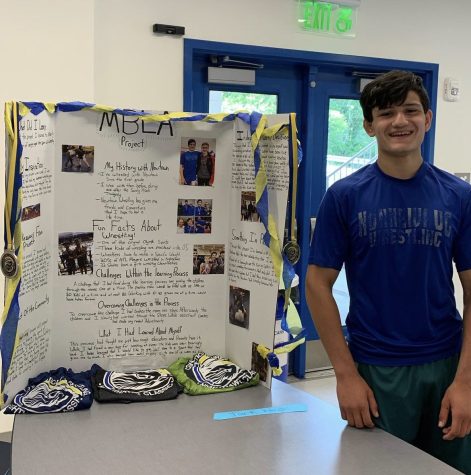 A part of the credit changes was the health/gym curriculum. Originally, students were required to take a half-year of health and a half-year of gym to graduate. 
"The state was saying instead of a half-credit [of health and gym], it has to be full credit by the state," explained Stephanie Gutierrez, a guidance counselor. 
To combat these changes, the Class of 2023 had to adapt during their four years. Students took a half-year of gym as freshmen and a half-year of health as sophomores. 
As juniors and seniors, they took a half-year of the newly started wellness curriculum, which was half-health and half-gym in a semester. They did this for their final years of high school to meet the requirements. 
In addition to the health changes, the state also started to require starting with the Class of 2023 a capstone project. While many surrounding districts already had this requirement, Nonnewaug instituted its Mastery-Based Learning Experience, dubbed MBLE, starting with these seniors. 
"We introduced MBLE upon state requirement during junior year. We had most of the school already in an SAE [a Supervised Agricultural Experience] or other work experience, so it just ensured everyone was learning something," said Sordi. 
The MBLE's introduction as juniors last year combined with upper-level classes caused some consternation among seniors.
"Starting junior year taking the hardest classes I've taken yet and getting new graduation requirements added unneeded stress," said Wells.
COVID-19 and the Class of 2023
The Class of 2023 began their journey with normal high school for the fall, including their freshman orientation and the first day of school. They attend homecoming at the Amber Room in Danbury on Nov. 15, 2019. The winter of the year was going well, but as spring rolled around, the unimaginable occurred. 
The coronavirus, or COVID-19 as it became formally known, began to sweep the nation and the world. 
Sordi recalled the days leading up to the closure of the school and the process of making the decision. 
"I remember the date: It was March 10, a Tuesday at 1 p.m. I got called to the central office because COVID was identified to be from a person in Bethlehem, and after a long meeting the decision was that on March 11 we would not be in school. The messaging would go out at 3 p.m. on the 10th."
Following the messages that were sent out, there was no school the following week for teachers to be trained on online teaching tools and Zoom. 
Learning resumed March 23, 2020 with 35 minutes per class per day as the original expectation. Each student was required to check in on Google Classroom by answering a question or completing assignments by midnight of that day. Zoom was utilized to provide support for students needing to connect with teachers for help but remained optional. 
Many online school spirit events took places such as staff/faculty trivia, Instagram singing and dance competitions, and more. 
The year closed by closing the Chromebooks and hoping to return to in-person learning. 
Sept. 8, 2020 was the start of sophomore year for the Class of 2023. The new schedule to start the year was a hybrid schedule utilizing cohorts. 
Cohort A included students with last names A-K who attended school in person on Monday and Tuesday and were online on Thursday and Friday. Cohort B included students with last names L-Z and followed the opposite schedule. Wednesday was an all-online day and used for office hours and catching up on work.
Initially, the school day didn't start until after 8 a.m.
"When we returned to school, it was really weird and confusing because we had to be at school an hour early," said Zeke Gonzalez, a Nonnewaug senior from Seymour. 
Out-of-district students were left sitting at school for a little over an hour before their in-district counterparts arrived because each region's schedule was different.
"The in-district kids got to sleep in an hour or so later than [out-of-district kids], so it was unfair for the out-of-town kids that had to get up much earlier than everyone else," added Gonzalez.
To add to the stress of arrival times at school, there were many restrictions and events canceled.
There was no homecoming, no field trips, and masks were worn, inhibiting the smiles of friends to be shared. By mid-January 2021, everyone was able to come back to school with modified schedules. 
Sophomore year ended and students spent their summer hoping by junior year things would return to normal. 
Junior year began with masks and another modified schedule. Odd days had periods 1, 3, 5, and half of period 7, while even days had periods 2, 4, 6, advisory/flex, and the other half of period 7. Homecoming happened for the hopeful Class of 2023, now upperclassmen, and they realized time was flying by. 
Homecoming was held at the Wyndham Hotel in Southbury to much excitement. Masks were supposed to be worn, but nobody followed it as many were just so excited to be with their friends again at a dance. Outside guests also weren't allowed. 
March 1, 2022 marked the removal of mask mandates in Region 14 schools. 
"I remember how we finally got to do more hands-on stuff again and it was such a relief that things were finally going back to normal," said Bianca Gracia, a Nonnewaug senior. "It did feel somewhat weird because we were so used to wearing them, as we wore them for all of sophomore year and a little over half of junior year."
With the lifting of the mask mandates, the Class of 2023 was also able to attend in-state field trips. However, they had their eyes set on one thing: prom. 
The juniors had prom at The Grand Oak Villa in Oakville. Guests were allowed and everyone enjoyed themselves with life becoming normal again. 
Senior year started with a bang. Homecoming and the National FFA Convention returned, and the school held its first powderpuff football game. Once-scared freshmen who wondered if they would ever get to experience high school were finally given a normal high school year, complete with the original schedule with which they started high school.
"It's weird finally having a normal school year and schedule for the first time in three years," said Wells. "I've basically been accustomed to something changing on a day-to-day basis."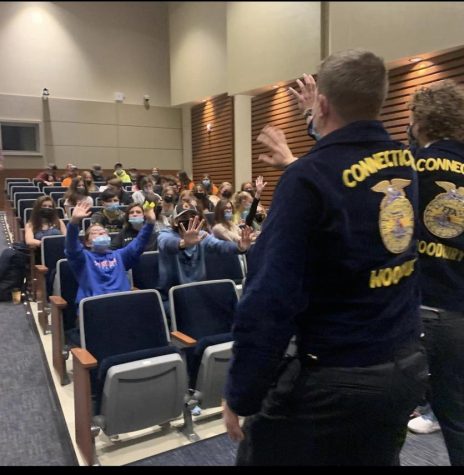 Out-of-state field trips were finally allowed again for the first time since early 2020. Seniors had opportunities to travel to Rhode Island, New York, Indiana, and Massachusetts for a variety of unique learning opportunities. 
The Class of 2023 is looking forward to the redout, their senior trip, prom, and graduation as they try to regain the lost time from the pandemic.
Sordi believes that more was gained than lost. 
"It doesn't concern me we lost anything," Sordi said. "The experience proved to have bigger gains than learning loss because what we learned on how to do things differently, how to figure out situations that aren't the norm and deal with adversity and come out happy, strong and a willingness and appreciation for school like some students have never had before."
Reflection on the Journey
After all they've endured over the past four years, Nonnewaug's seniors are better equipped to handle future challenges, according to staff members.
"[The Class of 2023] have been through a lot, and hopefully [they are] stronger," Gutierrez said. "[They've] overcome a lot of things to be successful."
"Life presents itself and people don't have choices sometimes on how to proceed," Sordi said. "Human nature is to persevere, and that being said, your class was presented with an extraordinary challenge you've experienced through high school, and you survived, you thrived, and now your memories will probably be will one of your best teachers."