Nonnewaug Students Take to Stage for Spring Talent Show
Zoie Cole, Assistant Features Editor
April 18, 2023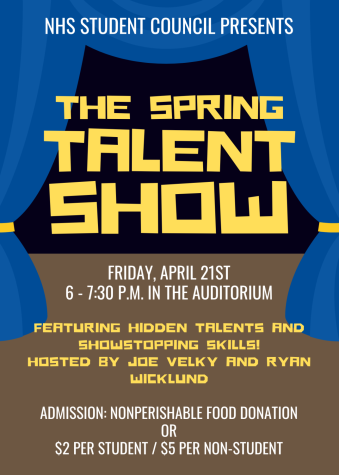 WOODBURY — When the curtains draw back on the Nonnewaug High School auditorium stage, there's always something to be excited about: plays, concerts, musicals, and the annual talent show in the spring.
"It's exciting to see the students in a different light than usual," said Jamie Lisevick, a math teacher at Nonnewaug High School and a Student Council advisor. "I normally see them in math class, so it's interesting to see their skills on a more personal level."
Organized by the NHS Student Council, the April 21 event offers students a chance to showcase their talents to the Nonnewaug community. Acts can be anything the student can imagine, from singing, to dancing, to acting, to comedy, to the world of talent between and beyond.
"My favorite part about working behind the scenes is being able to work with the amazing performers," said Rebecca Varnum, a Nonnewaug senior and member of the Student Council. "So many people at Nonnewaug are extremely talented, and it's really great to be able to help them display their skills in the show."
This year's acts are nothing short of incredible; after a two-week period of auditions, the lineup is nearly complete, featuring a combination of new and familiar faces. From singing, to instrumentals, to dancing, the 2023 spring talent show is shaping into a sight to see.
"The talent show gives students an opportunity to shine in a way most of us haven't seen before," Lisevick said. "Plus, it encourages the community to be a part of something great — aside from parents and students, you never know who might be in the audience. It's an opportunity."
The weeks leading up to the talent show are marked by growing anticipation, and work behind the scenes from students and staff alike. Acts are determined, pamphlets are made, and flyers are distributed around the building.
"Putting the show together takes a lot of organization and planning beforehand," said Lisevick. "It's important to remember centerpieces and find sponsors, but we have a great team, so we make it work."
"The hardest part about putting the talent show together is definitely the work on the day of," Varnum said. "It takes a lot of time to coordinate sound, visuals, and performers. It can be really stressful to make sure everything is perfect, but it's always super rewarding and turns out amazing due to all of our talented performers."
The spring talent show will take place April 21 from 6-7:30 p.m. in the Nonnewaug auditorium. Admission costs a nonperishable food donation, or $2 per student and $5 per non-student guest.